Tuesday, December 23rd, 2014
ODROID announced a very interesting single board computer while I was fighting the flu… the ODROID-C1 for only $35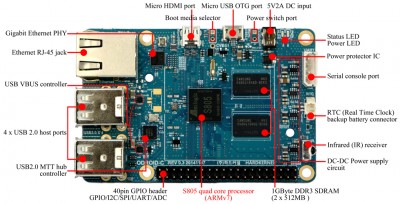 (click on image for larger version – image courtesy of hardkernel.com)
You can clearly see that the major features are very attractive:
quad core Amlogic ARM6 Cortex-A5 (ARMv7) running at 1.5GHz
Mali™-450 MP2 GPU (OpenGL ES 2.0/1.1 enabled for Linux and Android)
1GB DDR3 32 bit memory at 792MHz
40 pin GPIO header, 92.75% compatible with the Raspberry Pi Model A+ / B+ (37 of 40 pins)
two 10 bit ADC channels (which along with 1.8Vref are the three different pins on the GPIO header)
four USB2.0 host ports
one micro USB OTG port
10/100/1000 Mbps Ethernet port
eMMC4.5 HS200 Flash Storage slot
UHS-1 SDR50 MicroSD Card slot
on-board Real Time Clock (with battery connector)
IR receiver
DC adapter jack to support more current than micro USB
Ubuntu 14.04 support
Android KitKat (4.4) support
Here is a block diagram: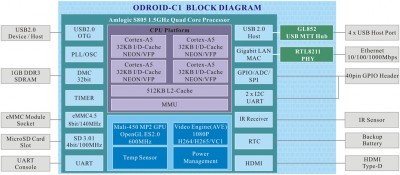 (click on image for larger version – image courtesy of hardkernel.com)
Hardkernel ran a number of benchmarks comparing the ODROID-C1 to the Raspberry Pi, here is a summary of their results:
7.8x faster than Pi for Dhrystone-2
9.9x faster than Pi for double precision Whetstone
4.1x faster for file copy
close to 600Mbps on a Gigabit network
(I plan on reviewing the ODROID-C1 in the near future, and I will put it through the wringer)
Basically up to eight times the floating point and integer performance – not too shabby!
In order to keep the price so ridiculously low, two Raspberry Pi features were dropped:
there is no camera connector
there is no LCD connector
Here is the back of the board – note the eMMC connector and uSD slot: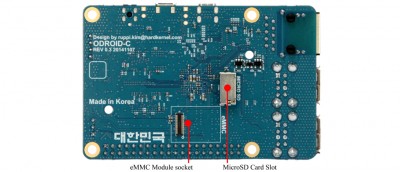 (click on image for larger version – image courtesy of hardkernel.com)
It will be interesting to see how the ODROID-C1 will do in the marketplace – it certainly has a lot of horsepower for the price.
The Raspberry Pi has about four million installed units, and an incredibly active user forum, serving educational users everywhere.
The ODROID-C1 is aimed more at technical users who need more "oomph", and don't need dedicated camera/lcd connectors.
I suspect the ODROID-C1 will find a niche – and supporting Ubuntu and Android 4.4 certainly give it different markets than Raspbian.
Related Links