Saturday, March 21st, 2015
I've seen quite a few questions in the forums on how to add more SPI devices … so I decided to write up one of my Raspberry Pi based data acquisition projects.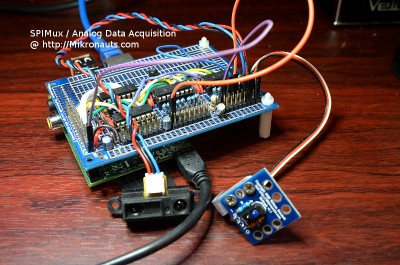 (click on the image for larger version)
Currently there are 8 channels of 0-4.096V inputs with 1mV resolution, and 16 channels of 0-8.192V channels with 2mV resolution, article has the schematic and Python source.
I used three MCP3208's, a 74HC138N, precision resistors and a precision voltage reference in order to add 24 channels of analog input to one of my Raspberry Pi's.
Article Index: