June 26th, 2015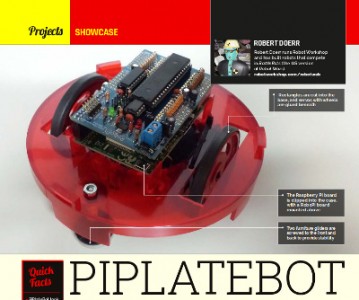 The July 2015 issue The MagPi just came out, and Robert Doerr  (who runs RobotWorkshop, has built bots that competed in BattleBots) has a feature in the Projects Showcase (p.24 & p.25) showcasing PIPLATEBOT – a very cool Raspberry Pi (and RoboPi) based turtlebot.
For the full monty, head over to The PiMag #35 and give it a read. Better yet, subscribe to the print version, or head over to WHSmith,  Barnes & Noble, or Micro Center and buy a copy!
As usual, The MagPi is choke full of great articles.
Robert's RobotWorkshop is also well worth a gander…
(here is a direct link to the RoboPi product page)