May 29th, 2016
The June 2016 edition of Servo Magazine is out – and it has my sixth "Serving Raspberry Pi" article!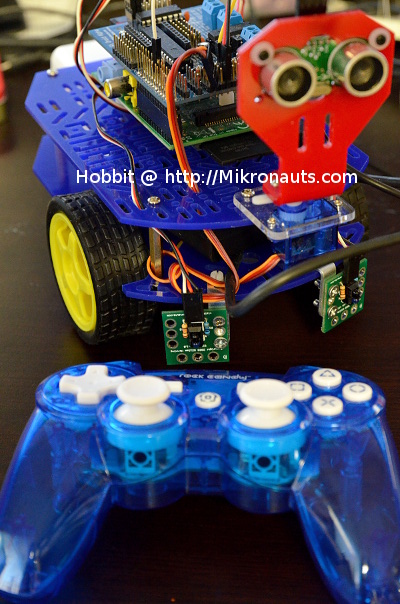 In this article, I upgraded Hobbit with:
two front virtual bumpers
a WiFi hotspot
a Rock Candy PS3 Wireless Joystick
The left joystick controls forward/reverse speed, and the right one controls turning/spinning in place – in short, Hobbit behaves like an RC car/truck.
I'll be uploading the sample code and joystick library to the existing Hobbit article this week.
Hobbit article: Hobbit – Elf's little brother – 2WD Raspberry Pi based Robot
I strongly recommend you subscribe to Servo Magazine digital edition – you will then get access to all past Servo articles (including mine <grin>)
Related Links:
SPRITE – Raspberry Pi Robot featured in Servo Magazine, January 2014
Pi Droid Alpha – the best educational Robot Controller for the Raspberry Pi
RoboPi – the most powerful Robot controller for the Raspberry Pi
Other Mikronauts Raspberry Pi Reviews, articles and products: