Friday, December 11th, 2015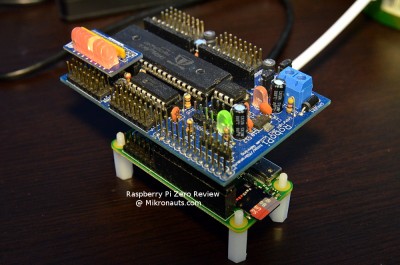 I used to think that RoboPi was pretty small.
But it dwarfs the Rasoberry Pi Zero!
RoboPi now supports the following single board computers:
Raspberry Pi Zero (RPi Zero Review)
Raspberry Pi 2 Model B (RPi2 Review)
Raspberry Pi Model A
Raspberry Pi Model A+ (RPi A+ Review)
Raspberry Pi Model B
Raspberry Pi Model B+ (RPi B+ Review)
Banana Pi (and BPi-M1) (BPi Review)
Banana Pro (BPro Review)
LeMaker Guitar with Base Board (Guitar Review)
ODROID-C1 (C1 Review)
ODROID-XU4 with Shifter Shied (XU4 Review)
MIPS Create CI20 (CI20 Review)
RoboPi simply stacks on top of the single board computers listed above.
Of course, RoboPi also supports stand alone operation with a PropPlug and 5V!
Every platform is supported with the C/C++ RoboPi API, and all platforms (except MIPS Create CI20) are also supported by the RoboPi Python API.
Links