LeMaker Bass Preview
Updated June 24, 2015 with newly released images and data from the LeMaker Bass product page.
According to an article published in IotWorld China,  LeMaker introduced three new products at the June 20 Maker Faire held in Shenzhen, China.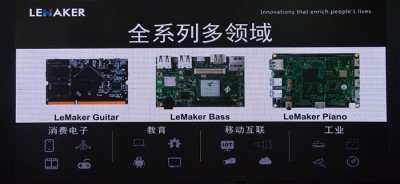 (click on image for larger version – image by LeMaker)
LeMaker Bass
Here is a good photo of the LeMaker Bass from its product page: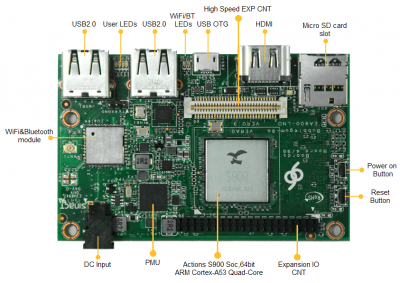 (click on image for larger version)
The LeMaker Bass resembles the 96boards.org HiKey eight core ARM board, but instead of an HiSilicon Kirin 6220 eight core ARM SOC, it uses a more modest Actions Semiconductor S900 quad core 64 bit processor.
Mind you, a four core 64 bit ARM based SOC is nothing to sneeze at!
It should also lead to a lower price than the HiKey board.
There is very little information available at this time about the Actions Semiconductor S900 – basically just their press release linked above – however as it is an A53 architecture chip, some more information could be gleaned from arm.com, and an article at cnx-software about the Bubblegum-64 development board from Actions Semiconductor.
I plan on updating this article as I receive more information – this will be another board I am looking forward to evaluating.
Basic Specifications:
28nm process
Torch S900 SOC
ARM Cortex A53 quad core 64 bit processor up to 1.4MHz
PowerVR G6230 GPU from Imagination, up to 2GHz
1GB DDR3 memory (2GB version possible)
8GB eMMC flash memory
combined WiFi + Bluetooth module
antenna connector
supports 4K h.265 HVEC UHD decoding
2x USB2.0 host ports
1x USB2.0 host/device OTG port
5.5mm/2.1mm standard DC input jack for 8-18V 2A
power and reset buttons
WiFi&BT signal LED, user LED
standard HDMI type A socket
board layout follows 96Boards standard
meets Linaro LCG standard
40 pin "low speed" GPIO connector with 32 GPIO, UART/I2C/SPI/PWM/PCM available
60 pin "high speed" connector with  SDIO, LCD, Camera and USB interface
85mm * 54mm
Torch S900 SOC:
manufactured by Action Semiconductor
28nm process
quad core ARM A53 64 bit processor
supports up to 8GB LPDDR2/LPDDR3/DDR3/DDR3L
PowerVR G6230 GPU from Imagination
supports 4K h.265 HVEC UHD decoding
supports Ultra HD (4K) playback
USB2.0
USB3.0
HDMI
MIPI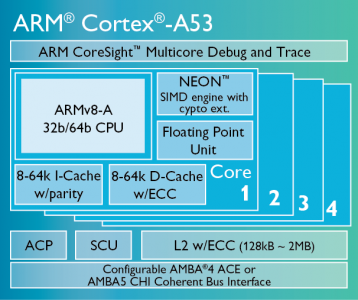 (click on image for larger version – from ARM A53 page)
Processor:
quad core ARM A53 64 bit processor
TrustZone security
NEON SIMD
VFPv4 D-32
vector floating point architecture compliant with IEEE 754
Memory:
up to 8GB of DDR3/DDR3L/LPDDR2/LPDDR3 memory
NAND Flash support
SD/MMC/EMMC support
Display engine:
up to 2560×1600 60Hz LCD panel support
dual screen UHD 4K 30Hz support
Camera sensors:
13Mpix maximum supported sensor resolution
GPU:
PowerVR G6230 GPU from Imagination
PVRTC texture compression
OpenGL-ES Next/3.0/2.0
OpenGL 3.x
Integrated Peripherals:

LVDS interface for large LCD panels
HDMI Transmitter for HDMI1.4b
USB Host and Device mode support
I2C, SPI, UART and GPIO support
Audio/Video Decoding:
MPEG-4, h.264, h.264 and h.265 HVEC decoding
UHD HVEC 4K x 2K 30fps decoding
OS Support
Linux kernel 3.10
Android  5.0
Ubuntu 14.04
Links
Disclaimer: The information above is based on a google translation of the original Chinese article at the referred link and information from actions-semi.com and other web sites, any inaccuracies are due to the translation, source material or grey hair moments writing this article. Factual corrections are welcome.