LeMaker Guitar Expansion Base Board Preview
Updated November 5, 2015 – click here to read my full LeMake Guitar Review
Updated June 25, 2015 – Banana Camera and 7″ LVDS LCD will work with the Base Board.
LeMaker has added information to their wiki on the base board for the LeMaker Guitar along with images of the LeMaker Guitar.
BaseBoard Specifications
SODIMM 204 pin connector for Guitar module
40 pin GPIO expansion connector
LVDS/MIPI connector for LCD
Parallel/MIPI connector for camera
HDMI type A connector
microSD card socket
two USB2.0 host connector
one USB3.0 host/device micro usb connector
10/100Mbit Ethernet
on-board AP6181 WiFi module
debug UART connector
EEPROM
power button
red power LED
green user LED
backup battery
backup battery connector
standard 5.5mm/2.1mm DC power input for 5-12V 2A
38Khz IR receiver
microphone
3.5mm TRRS audio /video output
2W amplified audio output connector
88mm x 88mm pcb dimention
Here is their block diagram (from LeMaker wiki)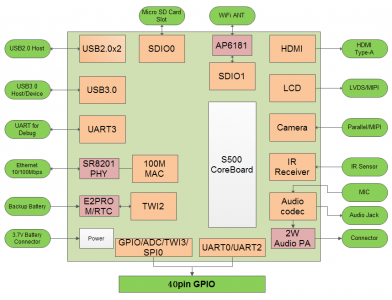 (click on image for larger version)
Here is a top down photo of the BaseBoard:
(click on image for larger version)
I like the board layout – nice and clean.
LeMaker confirmed that the camera connector is compatible with the current Banana Pi/Pro camera.
LeMaker also confirmed that the LCD connector will be compatible with existing Banana LVDS displays such as their 7″ module, but not with parallel RGB panels. The Guitar SOM is compatible with parallel LCD modules on custom base boards.
I appreciate the full size HDMI connector.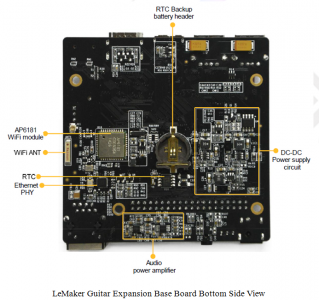 (click on image for larger version)
On the bottom of the board, we find the WiFi module, WiFi antenna connector, RTC battery socket, audio amp (a nice touch), and DC-DC power supply.
In case you missed it, here is a shot of the LeMaker Guitar module that fits the baseboard: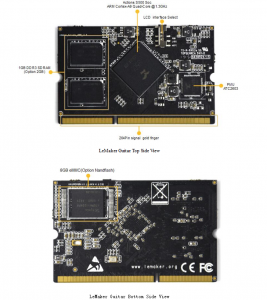 (click on image for larger version)
Links
For more information on the LeMaker Guitar module, see our LeMaker Guitar Preview, and also visit the LeMaker WiKi