LeMaker Piano Preview
Yesterday I posted previews of the new LeMaker Guitar and LeMaker Bass, but I only had very sketchy limitation on their new LeMaker Piano.
(click on image for larger version – from LeMaker product page)
Fortunately, LeMaker has put up their preliminary product pages today, and I was able to update the Guitar and Bass previews – and start on a LeMaker Piano Preview.
As you can see from the photo above, LeMaker Piano is just choke-full of interfaces and expansion capabilities!
I am really looking forward to this board, it is just oozing with I/O!
The specifications indicated a SATA port. I am guessing that must either be on the bottom of the board, or will be present on the next board revision.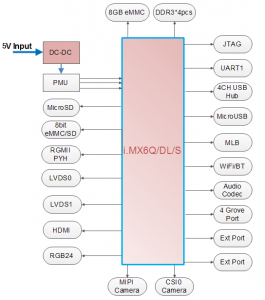 (click on image for larger version – from LeMaker product page)
LeMaker Piano is an industrial control oriented board.
LeMaker Piano Specification
Freescale i.MX6Q/DL A9 core ARM processor running at up to 1.2GHz
Freescale PMIC MMPF0100/MMPF0200 power management chip
1GB DDR3 memory (2GB model possible)
8GB eMMC NAND Flash
on-board AP6181 WiFi
1x PCIe 1 lane Gen 2 support (5Gbps)
microSD card, 4 bit mode
HDMI type A connector
dual LVDS touch LCD support
MIPI DSI camera support
Digital RGB panel support (RGB24/RGB666/RGB565)
4x USB2.0 host ports
1x USB2.0 OTG/host/device port
Grove Pi I2C, GPIO, ADC UART interfaces
XBee interface with UART, 6 GPIO, CSPI, 1 PWM
40 pin GPIO header with 2x UART, 2x SPI, 1x PWM, 10 GPIO (Raspberry Pi Model B+ compatible)
debug UART port
20 pin JTAG interface
power button
audio out + microphone in support
SPDIF input + output support
standard 5.5mm/2.1mm DC jack for 5V 3A power supply
130mm x 93mm
wide -40'C – 105'C temperature range
Freescale i.MX6Q/DL SOC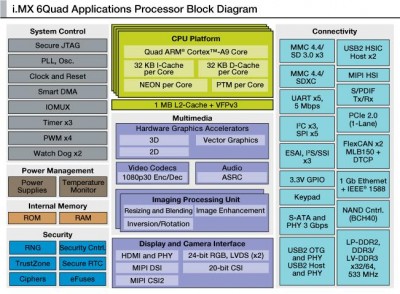 (click on image for larger version – from freescale product page)
Processor Features
ARM A9 quad core
32KB instruction cache (per core)
32KB data cache (per core)
NEON (per core)
PTM (per core)
shared 1MB L2 cache
shared VFPv3 vector floating point unit
Multimedia Features
hardware 2D, 3D and vector graphics accelerators
1080p30 encode/decode video codecs
ASRC audio codec
resizing/blending, image enhancement, inversion/rotating video processing unit
Display & Camera Interfaces
HDMI with PHY
MIPI DSI
MIPI CSI2
2x 24 bit LVDS/RGH outputs
additiional 20 bit CSI
I/O interfaces
3x MMC4.4/SD interfaces
1x MMC4.4 SDXC interface
5x UART's, up to 5Mbps
3x I2C interfaces
5x SPI interfaces
3x I2S/SSI ESAI audio interfaces
3.3V GPIO
matrix keypad interface
SATA with PHY, 3Gpbs
1x USB2.0 OTG/host/device with PHY
2x USB2.0 host
MIPI HSI
SPDIFF (tx & rx)
PCIe 2.0 (single lane)
2x FlexCan (MLB160 + DTCP)
1Gbit Etherbet + IEEE 1588
NAND controller (BCH40)
LPDDR2/3/DDR3/LV-DDR3 x23 or x64 533MHz interface
Other Features
secure JTAG
PLL oscillator
DMA controller
IOMUX
3x timers
4x PWM
2x watchdog timers
temperature monitor
RNG/TrustZone/eFuses
No wonder the LeMaker Piano has so many nice I/O interfaces!
Links