CPUModule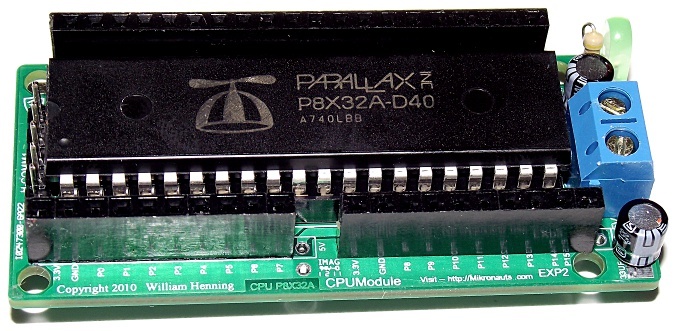 CPUModule features:
2.575″x1.160″ – same form factor and footprint as Mikronauts I/O modules
designed to run at 100Mhz
can be mounted on standard .1″ spacing breadboards using simple male headers
can take EXP1 (P0-P7), EXP2 (P8-P15) and EXP3 (P16-P23) standard -or- stacking connector
has on-board LM1117-3.3 (or compatible) SMT voltage regulator
optional power LED and current limiting resistor
supports up to three 33uF SMT/throughole tantalum capacitors and two 100nF ceramic bypass capacitors
EXP1/2 can have optional 11th +5VDC pin if the module is powered by +5VDC
has Mikronauts standard H-COMM connector for PropPlug, SerPlug or 485Plug
can take TWO EEPROM's (pullups on both SCA and SCL)
one EEProm socket defaults to address 0, the other can be strapped to address 0..7
has two screw terminals for power input
extremely nice PCB layout by Sapieha
Did I mention CPUModule is tiny? I like placing it beside breadboards for experimenting with circuits: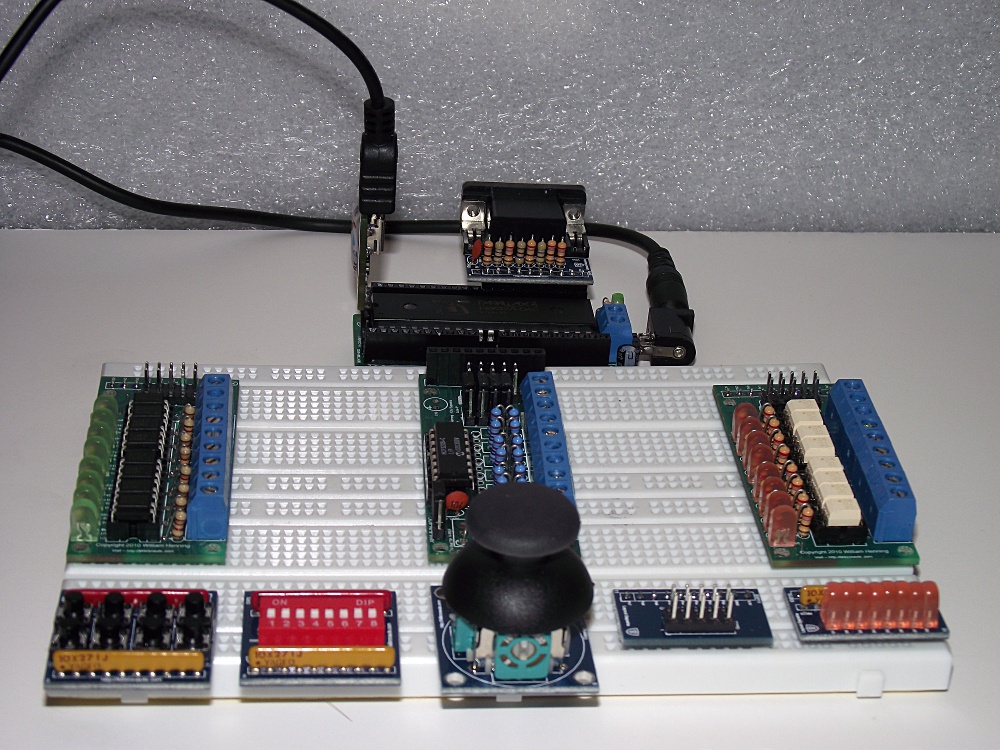 (the photo above and below show some upcoming Mikronauts modules)
CPUModule is compatible with all Mikronauts prototyping boards and Mikronauts miniMods!
If you use stacking headers – or male pins – you can even inseart CPUModule into breadboards!
Pricing:
MIK-CPUM-P .. $7.95+s/h.. bare PCB only
MIK-CPUM-FK .. $29.95+s/h .. full kit (includes one EEPROM)
MIK-CPUM-LK .. $14.95+s/h same as full kit minus Propeller and EEPROM
Note: the next production run will be blue.
Documentation
CPUModule Build Manual (coming soon)