Proteus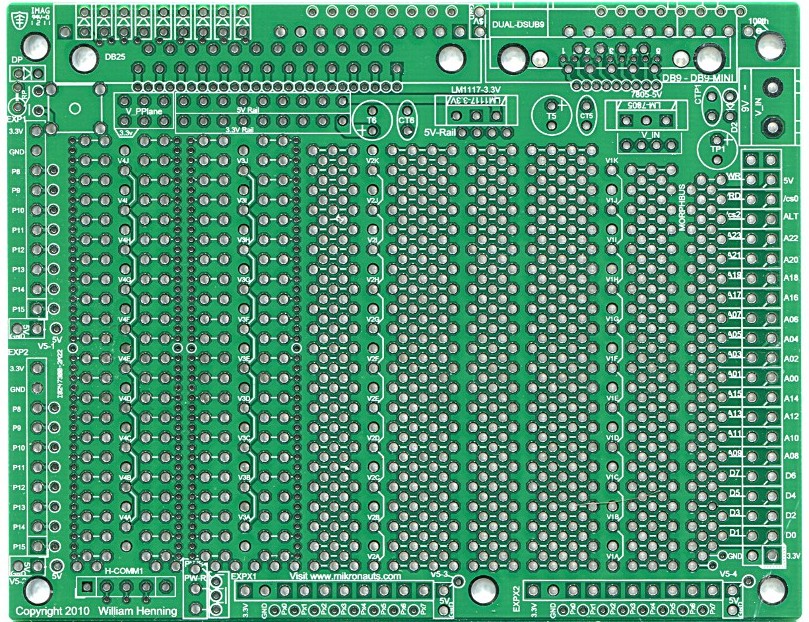 Proteus (rev.2) Advanced 4.00″x3.05″ prototyping board
Proteus has the same mounting hole pattern as all Parallax 4.00″x3.05″ Propeller and Basic Stamp boards, and is part of the Mikronauts system of stacking boards.
You can use Proteus to add custom circuitry to any of our 4.00″x3.05″ microcontroller boards and you can even use it with our small CPUModule!
Features:
most bussed through holes are 40mil in order to fit pin sockets or multiple leads
50mil spacing small through holes for SMT pads and high density connectors
optional power on LED
optional tactile switch pattern
two 10/11 pin connector patterns on the left edge
eight LED mount points
DB25 connectorpattern
3v3 / 5v power rails
H-COMM pattern
SPST switch pattern, two sizes
two additional 10/11 pin header patterns on top
two additional 10/11 pin header patterns on bottom
DB9 landing pattern, mini and full size
screw terminal for Vin
5V and 3v3 power supply area
Morphbus connector that can be used as a 2xN connector area
interleaved 3v3/GND power rails
advanced 2/3/4 pad bussed prototype area layout and
0.050″ SMT landing patterns fits soic and other packages
provides via's to SOIC pattern
This first production run is green, future production runs will be blue.
If you have any questions about Proteus, please visit our Proteus discussion forum.
Pricing:
MIK-PROT-P .. $9.95USD plus s/h for one bare PCB
Shipping starts at $6.00USD for one board to continental US with tracking.
Please contact us for quantity pricing at mikronauts(at)gmail(dot)com.