Raspberry Pi Model A+ Review
The Raspberry Pi Foundation brings out another almost perfect product!
I admit it. As soon as I saw the official announcement, I wanted some Model A+ Raspberry Pi's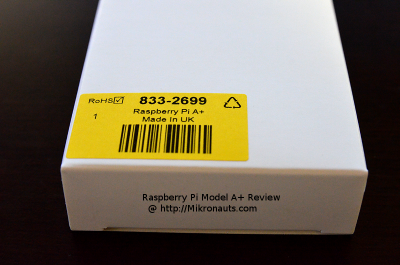 (Ok, fine, I admit I am enthusiastic about the Raspberry Pi Model A+)
It was really frustrating when the main Canadian distributor kept pushing the availability off, but fortunately after a few days of frustration – and a bit of googling – I found another source – and ordered five A+'s to play with.
I was pretty confident the Model A+ would be a great product. You'll have to read this article to see if I was right to be confident!
Full disclosure: I purchased all the equipment used in this review, and no one paid me to write it… I am always unbiased.
The Raspberry Pi Model A+ looks really good!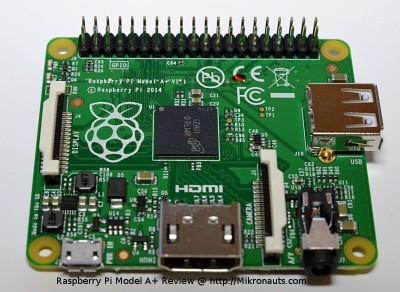 (click on the image for larger version)
The Raspberry Pi Model A+ is essentially a Model B+, with the USB hub and Ethernet jack chopped off.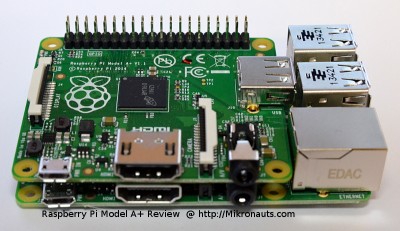 (click on the image for larger version)
As you can see above, it fits nicely on top of a B+
I thought it would also be interesting to show how different the layout is between a Model A and a Model A+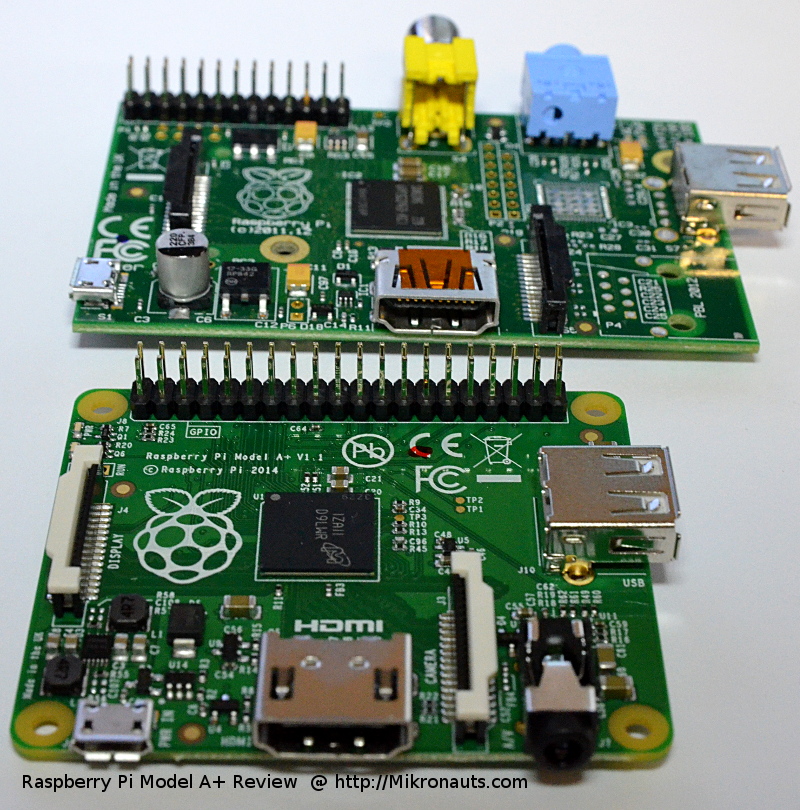 (click on image for larger version)
To me, the A+ has a far more practical layout – have to love the mounting holes and smaller form factor.
The A+ keeps some of the most important aspects of the Model B+
40 pin GPIO header (was 26 pins)
one USB 2.0 ports (same as the original Model A)
micro SD card socket (was full size SD slot)
Switching voltage regulation (was linear)
Improved audio quality due to separate audio low noise power supply
Improved board layout

replaced RCA video connector with combined video/audio 3.5mm 4 signal jack
four proper mounting holes in a nice rectangular pattern
rounded corners for little fingers
(Did else anyone find the … leak … the Friday before the official announcement, by the same retailer, a bit of a coincidence?)
The A+ is the same size as the 'HAT' standard – and it is definitely a cute little board.
Originally, the Model A was aimed at education. The Model A+ really targets the Internet of Things, and embedded projects – as those usage cases you can often get away with only having a single USB port.
Mind you, there is absolutely nothing stopping you from attaching a powered USB hub – which I did, for my testing.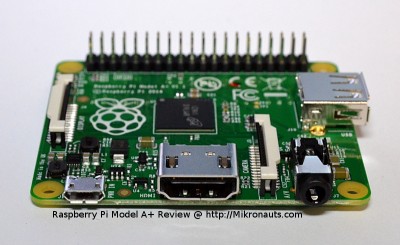 (click on the image for larger version)
The most amazing part of the Raspberry Price Model A+ is its price of $20USD – beating the original Model A's already impressive $25USD price.
Feature Comparison
| | | | | |
| --- | --- | --- | --- | --- |
| | Rpi Model A+ | Rpi Model A | Rpi Model B | Rpi Model B+ |
| Processor | BCM2835 | BCM2835 | BCM2835 | BCM2835 |
| ARM version | ARMv6 | ARMv6 | ARMv6 | ARMv6 |
| Cores | 1 | 1 | 1 | 1 |
| Clock Speed | 700Mhz | 700Mhz | 700Mhz | 700Mhz |
| BogoMips | 698 | 698 | 698 | 698 |
| GPU | VideoCore IV | VideoCore IV | VideoCore IV | VideoCore IV |
| Video HW Decode | yes | yes | yes | yes |
| Memory Size | 256MB | 256MB | 512MB | 512MB |
| Memory Type | SDRAM | SDRAM | SDRAM | SDRAM |
| Memory Speed | 400 | 400 | 400 | 400 |
| GPIO pins | 40 | 26+8 | 26+8 | 40 |
| I2C | 2 | 2 | 2 | 2 |
| SPI | 1/2CS | 1/2CS | 1/2CS | 1/2CS |
| UART | 1 | 1 | 1 | 1 |
| Camera Flex Socket | CSI | CSI | CSI | CSI |
| LCD Flex Socket | DSI | DSI | DSI | DSI |
| Ethernet | – | – | 10/100 | 10/100 |
| Controller | – | – | LAN9512 | LAN9514 |
| Storage | uSD | SD | SD | uSD |
| HDMI out | YES | YES | YES | YES |
| Video out | * | YES | YES | * |
| 3.5mm audio out | YES w/video | YES | YES | YES w/video |
| USB Host | 1 | 1 | 2 | 4 |
| Reset Button | header | – | – | header |
| Mounting holes | 4 | 2 | 2 | 4 |
| Size | 65mm*56mm | 85mm*56mm | 85mm*56mm | 85mm*56mm |
| | | | | |
| MSRP | $20.00 | $25.00 | $35.00 | $35.00 |
Article Index