RoboPIC 18F4550
RoboPIC 18F4550 STEM USB Robot Controller and Development Board
RoboPIC 18F4550 adds a powerful PIC USB microcontroller to ANY computer (including all single board computers) that supports USB CDC (serial) communications in order to off-load PWM and Servo control from your computer.
RoboPIC 18F4550 is the ideal tool to introduce high school students engaged in STEM courses to microcontrollers and robotics.
The low cost kit is easy to assemble in electronics or physics classes, and the pre-loaded USB bootloader and free development tools significantly reduce the barrier to entry for schools.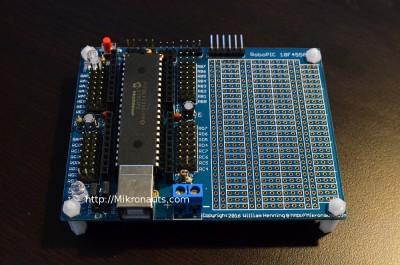 (Click on image for larger version)
RoboPIC 18F4550 features
Microchip PIC18F4550 USB microcontroller
Pre-loaded with USB bootloader so you don't need a programmer
Mikronauts tests USB and each I/O of the PIC chip before shipping
large bussed prototyping area for your experiments
four 10-pin Mikronauts I/O module expansion connectors
32 servo compatible headers (30 available for user applications)
eight servo headers can be externally powered
RoboPIC can be USB or externally powered
up to 13 channels of ten bit 0-5V analog input
Power LED
User LED on RA4
Reset button
4 pin 5V I2C header
5 pin HCOM header
6 pin Microchip ICSP header
Power selection jumper for EXP2 Servo header (Vcc or Vext)
Power selection jumper for board's Vcc  (Vusb or Vext)
Mounting holes match all Mikronauts prototyping boards
Mounting holes match Paralax Boe-Bot
Mounts easily on Magician 2WD and 4WD chassis
RoboPIC works with Windows, OS/X and Linux based PC's!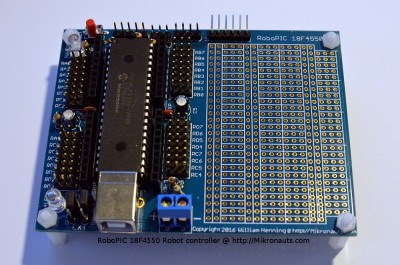 (Click on image for larger version)
You can program RoboPIC 18F4550 with
any other PIC18F4550 compatible development tool
SDCC, Pinguino IDE are free, and there is a free version of MPLABX+C8
MPLABX, SDCC and PinguinoIDE are all available for PC's running Windows, OS/X and Linux.
The Pinguino libraries include Arduino-like servo, PWM and other libraries, or you can roll your own using MPLABX or SDCC.
Note: hardware programmer is NOT included
RoboPIC 18F4550 works with ANY computer or SBC that support USB CDC!
To develop software for RoboPIC 18F4550 you will need a computer or laptop that can run one of the development environments above, and possibly a hardware ICSP programmer if you don't want to use the pre-loaded boot loader.
If you have any questions about RoboPIC 18F4550, please join us on our support form, or email us.
Kit Contents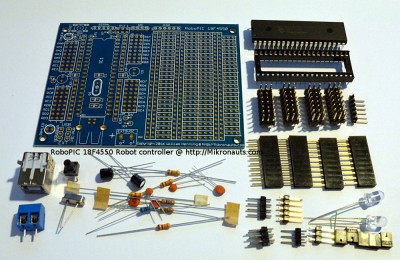 (Click on image for larger version)
RoboPIC 18F4550 parts
RoboPIC 18F4550 printed circuit board
PIC18F4550 microcontroller with boot loader, tested
DIP40 IC socket
all needed parts to populate RoboPIC 18F4550
For full parts listing, see the BOM in the build manual.
Downloads
RoboPIC 18F4550 PCB Specifications
ROHS and Lead Free
FR4 ENIG 1-oz copper
101mm * 79mm
mounting holes matching those on Mikronauts and Parallax 3″x4″ boards
Pricing & Availability
RoboPIC 18F4550 Full Kit $34.95USD + s/h
RoboPIC 18F4550 Assembled&Tested $59.95USD + s/h
RoboPIC kits and RoboPIC A&T are made in Canada
Shipping & Handling
Mikronauts products ship from Canada.
Continental US & Canada
1x RoboPIC 18F4550 s/h is $8.00USD, no insurance, no tracking
1-4x RoboPIC 18F4550 s/h is $18.00USD, with insurance and tracking
World Wide
Please contact us for non-US shipping rates for your desired product mix and quantity
Quantity pricing is available for distributors and educational organizations.