RoboAxe
RoboAxe is an intermediate level robot controller boards based on the PicAxe 20m2 processor with an optional dual DC motor driver and two generous prototyping areas matching the layout of the optional dual 170 point solderless breadboards. RoboAxe was designed to meet the needs of the educational market, making it ideal for use in developing STEM educational courses, FIRST competitions, and could be used as a platform when trying for the new Boy Scouts of America Robotics merit badge. The nature of the resulting design also meets the need of robotics enthusiasts and hobbyists for an affordable intermediate level controller.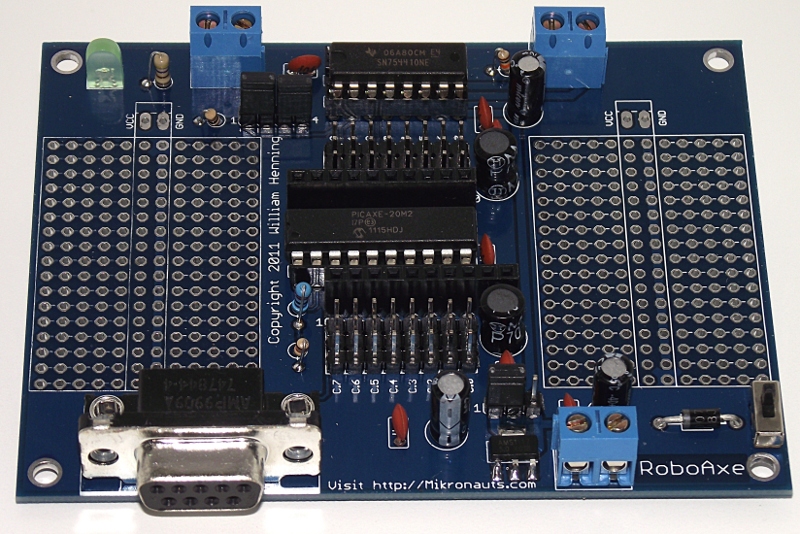 (photo 1: RoboAxe DC Motor Edition)
RoboAxe Features:
– PicAxe 20m2 microcontroller
– free Basic development environment and books are available from PicAxe
– 4.00″x3.05″ inch high quality printed circuit board with
– mounting hole and pattern matches other Mikronauts (and Parallax) boards
– two large prototyping areas matching optional solderless breadboards
– standard DB9F connector for serial programming
– optional USB-Serial programming cable
– reverse battery voltage protection diode
– 5V voltage regulation
– screw terminals for external battery
– SN754410 dual half H-bridge motor driver *1
– three pin motor voltage selection (5V or Vin) header *1
– four pin motor driver enable (two pins per motor, shunts installed to enable motor) *1
– screw terminals for each motor *1
– 16 x three pin I/O connectors for servo output / analog or digital input *2
– two 10 pin expansion connectors for breadboard connections
– the 10 pin expansion connectors are also compatible with most Mikronauts Modular System expansion modules
– two solderless breadboards with 170 holes each *3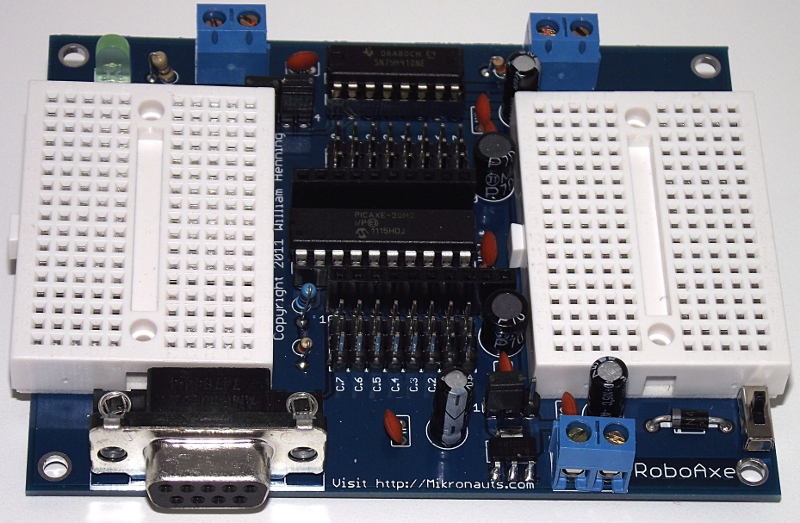 (photo 2: RoboAxe DC Motor Edition with optional breadboards)
Highlighted PicAxe 20m2 Features:
– runs at up to 32Mhz
– up to eight concurrent tasks
– up to 1800 lines of Basic code
– up to 512 bytes for variables and data
– 10 bit A/D converter on up to 11 inputs
– touch sensor on up to 11 inputs
– all of the 16 I/O pins can be used as digital inputs
– 15 of the 16 I/O pins can be used as digital outputs
– four channels of hardware PWM
– I2C / UART / SPI
– timers and counters and many more features!
RoboAxe
is now available. Reseller and bulk educational discounts are available.
Pricing will be announced shortly.
For more information, please email us at mikronauts@gmail.com
*1 .. with optional DC motor edition
*2 .. six of the 16 I/O's are used to control the DC motor driver when it is installed and enabled via two jumpers
*3 .. with optional breadboard add-on