July 5th, 2015
Affordable all-in-one robot controller for servos, pwm, digital I/O, with analog inputs and dual h-bridge motor driver for the Raspberry Pi.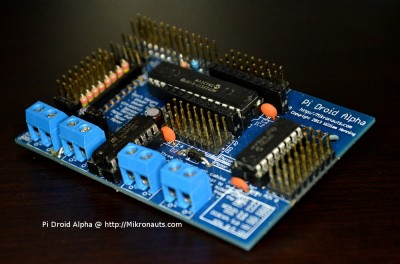 Pi Droid Alpha is Mikronauts new Robot controller board designed specifically for the educational and maker market.
Since the launch of RoboPi, we have received a lot of great feedback from teachers.
They loved RoboPi for advanced robots, but wished there was a controller for simpler robots. Specifically, they asked for:
low cost (due to shrinking budgets)
integrated motor driver
simpler to assemble (fewer components)
Pi Droid Alpha addresses each of the points above, works with any model Raspberry Pi and is the perfect match for small robot chassis such as the Dagu Magician 2WD.
For the full skinny (product information) head on over to the Pi Droid Alpha product page!
If you would like to discuss Pi Droid Alpha, come on down to the Mikronauts forums.
Pi Droid Alpha Full Kit is available in sample quantities from our Ebay page.
We welcome distributor, reseller and educational volume purchase inquiries at:
---