November 26th, 2014
I received the Raspberry Pi Model A+'s on Monday, and have been playing with one whenever I found some "spare" time.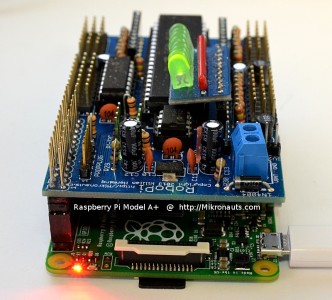 (click on image for larger version)
Here we have the "Hello World!" of the electronics world – lighting an LED:
---
Python 2.7.3 (default, Mar 18 2014, 05:13:23)
[GCC 4.6.3] on linux2
Type "help", "copyright", "credits" or "license" for more information.
>>> import RoboPiLib as RoboPi
>>> RoboPi.RoboPiInit("/dev/ttyAMA0″,115200)
>>> RoboPi.pinMode(0,RoboPi.OUTPUT)
>>> RoboPi.digitalWrite(0,1)
---
It worked on the first try!
Mind you, that did not surprise me. I would have been shocked if the A+ was not compatible with add-ons that worked with the B+
Just like with the B+ standoffs can be installed on the A+ that RoboPi can rest on to stop it from "flopping around".
Related Links:
---