December 9th, 2014
I need to program a lot of  EEPROM's. Frankly I got scared of the prices I saw for commercial gang programmers that could program the 24LC256 and 25LC512 EEPROM's I use.
A bit of googling found software I could use to program EEPROM's with a Raspberry Pi, so I made an eight EEPROM gang programming board!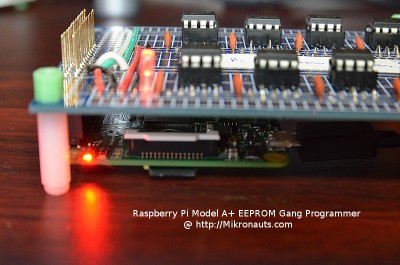 (click on the image for a larger version)
A bit of wiring on a prototyping board, a new shell script, and typing
sudo ./blast.sh
now programs eight EEPROM's for me! No more programming them one at a time!
Follow the link below for the full article, including schematics, link to the software, gang programming script etc
Making a Raspberry Pi based I2C EEPROM Gang Programmer
Article Index:
---