October 12th, 2014
Pi Rtc Dio Launched!
I am delighted to announce the immediate availability of Mikronauts I/O expander and real time clock for the Raspberry Pi!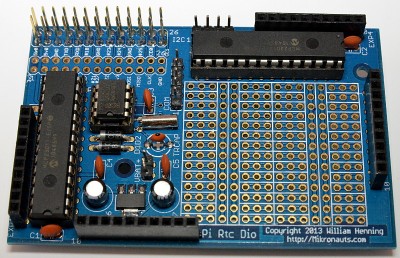 (Click on image for larger version – shown assembled & tested, sold as a kit)
Perhaps the two most requested additions for the Raspberry Pi are a hardware Real Time Clock and additional digital I/O.
Pi Rtc Dio provides 32 additional digital I/O's, and a real time clock chip supported by Raspbian.
You can have up to four Pi Rtc Dio's per I2C bus, however only one should have the RTC installed.
For more details, including pricing, please visit the product page at:
---