November 21st, 2014
I've been waiting patiently for Element14 to start selling the new Raspberry Pi Model A+
A couple of days ago, they posted an ad saying that it it is available in limited quantities – see image below: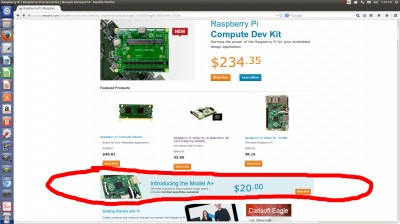 (click on image for 1080p version – here is the link to the page above)
I've been waiting as patiently as I could, as I really want to test it as I think it will be a great board for many of my projects, so this morning I contacted their customer service using their on-line chat.
Here is the start of my chat:
---
Ray: Hi, how can I help?

you: Introducing the Model A+ The least expensive, most compact single board computer.Limited quantities available!

you: when will I be able to order it?

you: an inactive link has been up for about three days now

you: http://canada.newark.com/raspberry-pi-accessories?rd=raspberry+pi&catalogId=15003&langId=1&storeId=10196

you: you can see it at the link above

Ray: we are not going to stock the model A+

you: Really? then why are you listing it as being available?

Ray: it is coming for our UK sister company

Ray: part 93X7446
---
I admit I complained to Ray about the situation, and asked for the email address to use for customer compaints (which is customerservice@newark.com)
I searched for the Model A+ by the part number Ray provided, and did find a listing page at
http://canada.newark.com/raspberry-pi/raspbrry-moda-256m/sbc-raspberry-pi-model-a-256mb/dp/93X7446?ost=93X7446
This page shows "Awaiting Deliver", and stock & lead times shows
"Per the manufacturer, more stock expected week of 02/03/15″
Now this suggests a few possibilities:
1) the Raspberry Pi Foundation BADLY underestimated the demand for a $20 Model A+
2) Element14 in Canada is confused – web site says they will stock it, customer service representative says they will not stock it.
(This may mean that they will only make it available as a "direct ship" product from the UK – likely increasing costs for customers)
I'll order a few from the UK or the states (assuming I can find some in stock somewhere) – but that means that I'll end up paying FAR more than $20 each.
I strongly suspect the Model A+ will outsell the proverbial hotcakes…
Now I am off to search the web for a few to play with.
p.s.
I appreciated how Ray was trying to be helpful, and I know he is in a tough spot. Apparently I was not the only upset customer. Element14 should carry the A+ in Canada, after all they are "THE" official distributor.
I suspect they will be getting a LOT of complaints…
Update#1:
MCMElectronics now expects A+'s on Dec.13 … they keep pushing back the availability date.
---