Banana Pi / Pro 7″ TFT LCD Module Review
Conclusion
The Banana Pi / Pro 7″ LVDS LCD Module from Lemaker is a very nice high resolution LCD module for the Banana Pi and the Banana Pro.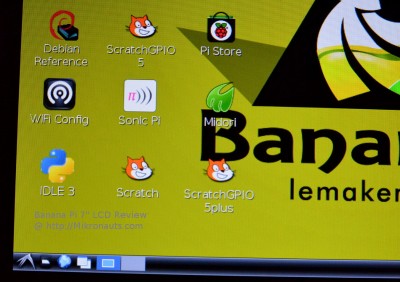 (click on image for larger version)
This display will work well for applications that need to display a lot of data where there is not space for a large desk top monitor.
Unlike the 3.5″ display, the standard Raspbian desktop is very usable with this display – you can browse the web, run normal applications, and realisticly have several windows open at once. You can use normal GUI tools, no need to develop a separate user interface for a small low resolution display.
I have been told that there will soon be a capacitative touch panel available for the display, which will allow its use without a keyboard and mouse, and if you need a touch panel right now, there are plenty of resistive 7″ touch panels with USB controllers on the market.
I believe this display will sell quite well, due to its higher resolution and less "clutter" than less expensive 7″ 800×480 panels require for an external HDMI converter board.
What I liked:
Lemaker's support (fast response, easy R5 fix)
1024×600 high resolution
high contrast, sharp, bright colourful display
no need for an LVDS/HDMI converter board
What I did not like:
vertical viewing angle
short flex cable (should be 150mm – 200mm)
Note: the lack of documentation is quite understandable for a pre-release sample
Improvements I'd like to see:
touch panel
side back lighting
less current drawn by LCD panel after Pi is halted
Related Articles:
Banana Pi 7″ LCD resources:
Article Index