Hardkernel ODROID XU4 Review
There's a new kid in town… and here is a close look at what he can do!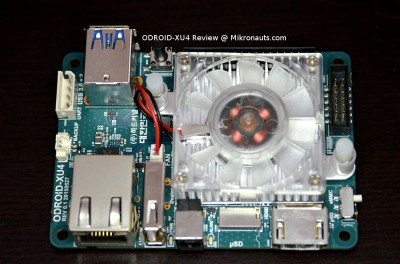 (click on image for larger version)
Hardkernel has released a cost-reduced yet still feature-full version of their pricey but very nice ODROID XU3 … the new ODROID XU4
I have purchased Hardkernel products in the past, namely the ODROID-W (discontinued before I had time to write a review (R.I.P.)) and the ODROID C1 (which I quite liked, See ODROID C1 Review)
I was tempted to get an ODROID-XU3, but the price was unappetizing, and while the XU3-Lite was less expensive, I had gotten used to ~$35 ARM SBC's for my projects.
Full Disclosure: Ameridroid.com provided the ODROID-XU4, XU4 Shifter Shield and a 16GB eMMC loaded with Ubuntu used in this review, but please be assured my reviews are always unbiased!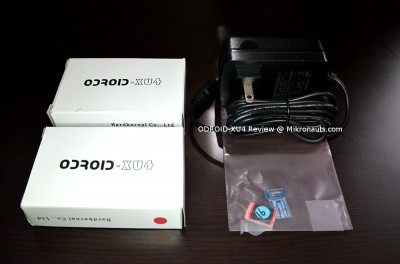 (click on image for larger version)
Does the ODROID-XU4 look like an ODROID-C1? Or Raspberry Pi 2?
While there is some general resemblance due to similar size, the ODROID-XU4 is a little larger and has the connectors in different locations.
Frankly, it is very difficult to make a small single board computer this small without some general resemblance.
After all, they all need similar I/O connectors (HDMI, USB etc), and have some GPIO.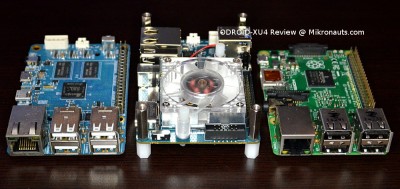 (click on image for larger version)
I was happy to see that the ODROID XU4 now has a full size HDMI connector, getting micro HDMI to HDMI cables was an added inconvenience and expense for every C1 owner.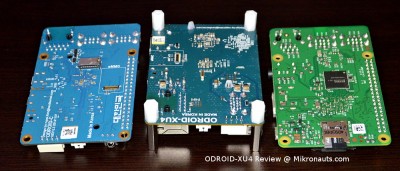 (click on image for larger version)
The XU4 does resemble the C1 a bit more than the Raspberry Pi 2, especially if you mount the optional heat sink on the C1.
Review Index