Hardkernel ODROID XU4 Shifter Shield Review
I recently reviewed Hardkernel's new ODROID-XU4 Big.little eight core single board computer – and I was very impressed by its performance.
It literally left the competition in the dust.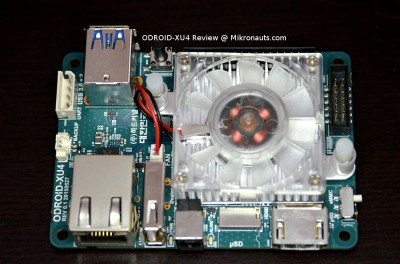 (click on image for larger version)
Unfortunately, the ODROID XU4 is not compatible with the standard 40 pin GPIO header originally introduced by the Raspberry Pi Model B+, which has become something of an industry standard – basically the ISA Bus of the ARM SBC market.
There are two GPIO expansion connectors on the XU4 – a 30 pin main connector, and a second 12 pin connector. Both have 1.8V GPIO's, and use a 2.0mm pitch.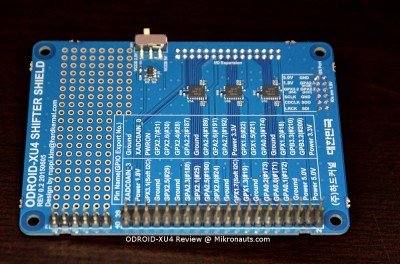 (click on image for larger version)
Fortunately, Hardkernel made a ODROID XU4 Shifter Shield to provide a large degree of Raspberry Pi style 26 & 40 pin GPIO compatibility, providing bi-directional translation for the GPIO's to the users choice of 3.3V or 5V GPIO.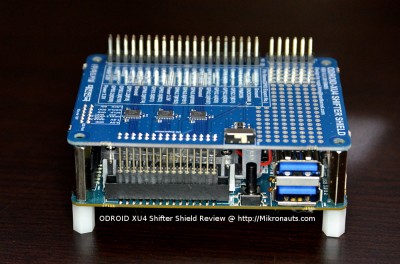 (click on image for larger version)
When set for 3v3, the XU4 Shifter is intended to be compatible with the 40 pin Odroid C1 GPIO connector, which is compatible with 36 out of the 40 pins on the Raspberry Pi GPIO connector.
The differences are confined to the end of the 40 pin connector for 1.8V out, two ADC outputs, and a PowerOn signal (pins 35, 37, 38, and 40).
Hardkernel has released a port of wiringPi for the XU4, and I was able to use it in my tests of the Shifter Shield.
Full Disclosure: Ameridroid.com provided the ODROID-XU4, XU4 Shifter Shield and a 16GB eMMC loaded with Ubuntu used in this review, but please be assured my reviews are always unbiased!
The shifter board also comes with mounting hardware to securely attach the Shifter Shield to the XU4.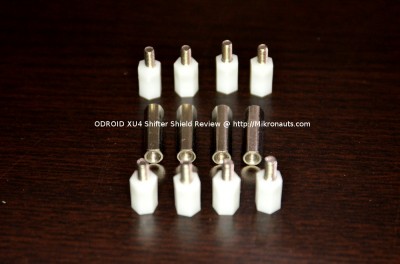 (click on image for larger version)
Article Index