ODROID-C1 Review
The inexpensive single board computer marketplace is exploding!
The Raspberry Pi Model B+ (and now A+) 40 pin GPIO header is becoming a second standard for embedded development boards – you can think of it as the equivalent of the PC/AT bus compared to the PC/XT bus of the 26 pin GPIO header on the older Model A and Model B.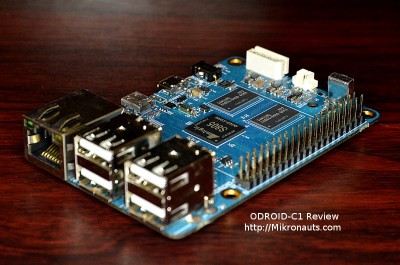 (click on image for larger version)
Hardkernel launched the ODROID-C1 last December – 14-12-2014 to be precise – and it immediately garnered a lot of interest due to its feature set, and incredibly low price of $35USD for a quad core arm board.
I mean really – such a price/performance ratio was previously unknown for a small single board computer!
Quad-core 1.5GHz Cortex-A5 processor
ARMv7 instruction set with NEON extensions
Mali-450 GPU with OpenGL ES 2.0
1GB of DDR3 memory
Real Time Clock
40 pin GPIO header of which 37 pins are Raspberry Pi B+ compatible
the incompatible three pins provide 1v8 voltage reference and two analog inputs
eMMC nand flash module socket
UHS-1 support for the micro SD socket
4x USB 2.0 host ports
1x USB OTG
IR receiver
Ubuntu 14.04
Android KitKat
I ordered some boards and accessories as soon as I could, and received them in January.
The board arrived in a small white box with "ODROID" on it: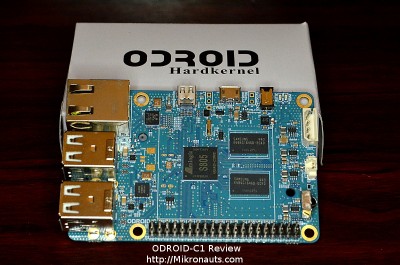 (click on image for larger version)
I also purchased the case, two types of optional power cables, an Ubuntu 8GB eMMC module, and some of their add-ons for later testing.
Full Disclosure: I purchased my own ODROID C1's and accesories, and as always, my review is unbiased.
Does the ODROID-C1 look like a Raspberry Pi?
You can decide for yourself.
Photo: Raspberry Pi Model B+, ODROID-C1, Banana Pro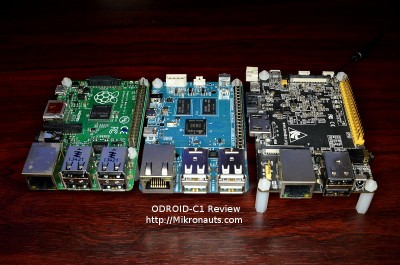 (click on image for larger version)
There definitely is quite a bit of similarity in how the Raspberry Pi Model B+ and the ODROID-C1 look – but there are also some differences. The ODROID-C1 has two memory chips on top of the board, uses a micro-HDMI connector, and has a console serial port connector as well as an IR receiver.
You will also note that the ODROID-C1 does NOT have a camera connector, LCD connector, or 3.5mm audio/video jack.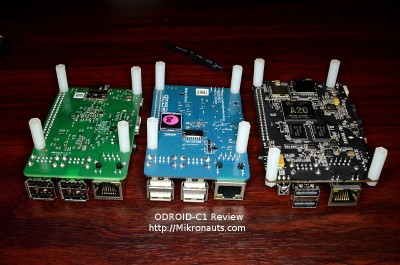 (click on image for larger version)
Note the eMMC module on the ODROID-C1 – the 8GB module came with Ubuntu 14.04 pre-loaded on it.
Article Index