LeMaker Guitar Preview
Updated November 5, 2015 – click here to read my full LeMake Guitar Review
Updated June 24,2015 with information from LeMaker Wiki including information on the LeMaker BaseBoard for Guitar
When it rains, it pours!
According to an article published in IotWorld China,  LeMaker introduced three new products at the June 20 Maker Faire held in Shenzhen, China.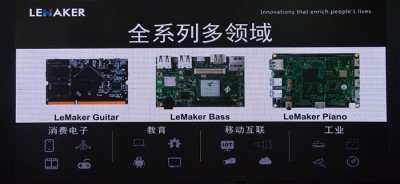 (click on image for larger version – image by LeMaker)
The LeMaker Guitar is a System on a Module (SOM) similar to the Raspberry Pi Computer Module and the modules used on other SBC's such as the SolidRun HummingBoard (site currently down).
SOM's are a great way of making custom boards without having to deal with the hassles of huge pin count devices and the multi-layer boards required for them, allowing custom boards to be made at considerable savings.
The LeMaker Guitar, at the planned $25 price point, may put significant pressure on the price of the upcoming Raspberry Pi 2 Compute Module (availability and price not annouced).
The existing single core 700Mhz Raspberry Pi Compute Module is currently selling around $40 in single quantities, and for $30 in qty.100, with the development kit priced at $215, both of which are significantly overpriced for the maker/hobbyist market.
If LeMaker can gather maker and developer mind share by providing great support, the Guitar has a good chance of becoming extremely popular.
If LeMaker support is lacking, the great support from the Raspberry Pi Foundation (and community) will win out.
(LeMaker Expansion Base Board information is in its own preview)
LeMaker Guitar Module
(image on far left above)
Basic Specifications:
$25 estimated market price
SODIMM Module for backplane / host board
Torch S500 SOC
ARM Cortex A9 r4 quad core 1.3GHz processor
1GB or 2GB of DDR3 memory
8GB Flash
ACT260X PMU+Audio power management unit and codec
Here is a good photo from LeMaker of the front and back of the LeMaker Guitar: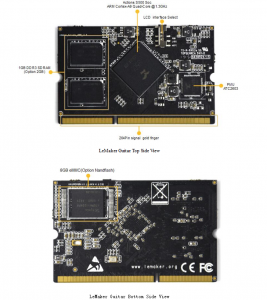 (click on image for larger version)
Torch S500 SOC:
manufactured by Action Semiconductor
28nm process
204 pins expansion interface with the DDR3 memory card interface standard, used to connect expansion base board.
quad core A9R4 processor up to 1.3GHz
PowerVR SGX544 GPU
supports Ultra HD (4K) playback
can capture 1080p 60fps
USB2.0
USB3.0
HDMI
MIPI
up to 2GB of DDR3/DDR3L/LPDDR2/LPDDR3 memory
TFBGA496 16mm * 16mm package
0.65mm ball pitch
67.6mm*42.2mm
Processor:
quad core A9R4 processor up to 1.3GHz
NEON-SMD and VFPv3 D-32 instructions
vector floating point architecture compliant with IEEE 754
supports ARM V7A instructions
32KB L1 instruction cache, 4 way associative
32KB L1 data cache, 4 way associative
512KB L2 cache, 16 way associative
Memory:
SK Hynix H5TQ4G63AFR-PBC.There is 1 GB DDR3 SDRAM(2*512MB)(option 2GB DDR3 SDRAM (2*1GB))
up to 2GB of DDR3/DDR3L/LPDDR2/LPDDR3 memory
NAND Flash support for both Async and Sync NAND flash
SK Hynix H26M41103HPR 8GB.Options 4GB/8GB/16GB/32GB
SLC, MLC and TLC NAND Flash supported
DDR NAND v1.0, v2.0 and Open NAND up to v3.0
up to four chip selects for NAND flash
three on-chip SD controllers for SD/MMC/EMMC
supports SD 3.0, SDIO 3.0 and MMC4.5
EMMC4.5 support
Display engine:
up to four video outputs
Video 1 4kx2k pixels
Video 2-4 2k*2k pixels max
two blender output paths
HDMI 1.4b, HDCP1.1 and DVI1.0 compatible
supports NTSC/PAL composite video output
Camera sensors:
dual camera inputs
YUYV, RGB565, RGB888, RAW8/10/12 Bayersensor support
MIPI CSI-2 specification v1.0 compilant
MIPI D-PHY specification v0.9 compiant
12Mpix maximum supported sensor resolution
GPU:
PowerVR SGX544 GPU
OpenGL-ES 1.1 and 2.0
OpenVG 1.01
4k * 4k frame buffer support
Bilinear, Trilinear and Ansitropic filtering
4x multi-sampling antialiasing
Integrated Peripherals:
LVDS interface for large LCD panels
HDMI Transmitter for HDMI1.4b
USB3.0 Host and Device mode support
Two independent USB2.0 controllers
four I2C channels
four SPI channels
seven UARTs
six PWM channels
I2S, PCM and SPDIF audio support
10/100Mbps Ethernet MAC
4×3 matrix keypad support
Audio/Video Decoding:
MPEG-4, h.264, h.264 and h.265 HVEC decoding
60Mbps – 120Mbps (average, peak) data rate support
JPEG baseline decoder up to 900Mpixels
HDCP 2.0 & 2.1 support
Power:
3.3V for I/O
1.0V for processor core
low dynamic power architecture
dynamic clock rate support
multiple standby power states
integrated precision temperature sensor
OS Support
Linux kernel 3.10
Android  5.0
Ubuntu 14.04
Reportedly, when compared to the Raspberry Pi 2, the Guitar has:
29% higher memory performance
25% higher GPU performance
40% higher CPU performance
Disclaimer: The information above is based on a google translation of the original Chinese article at the referred link and information from actions-semi.com, any inaccuracies are due to the translation, source material or grey hair moments writing this article. Factual corrections are welcome.

Links