ppBridge
Features:
Propeller Platform header patterns
Propeller Platform mounting holes
one RCA connector pattern
one stereo 1/8″ jack
one DIP8/SOIC8/TDFN8 pattern
four EXP connectors used by all Mikronauts modules and Parallax Proto boards
one I2C expansion connector – used by Mikronauts I2C modules
one H-COMM connector used by Mikronauts SerPlug, 485Plug, and Parallax Propeller Plug
advanced double-density bussed prototype area
silk screened labels for EXPx, H-COMM, I2C and PP headers
The RCA jack can be used for TV or audio output – use just three resistors and a jumper wire to implement a Propeller NTSC/PAL output, or experiment with alternate TV output circuits.
The 1/8″ stereo jack can be used for audio+video or stereo audio output, using either standard Propeller audio circuit or any other audio DAC.
The DIP8/SOIC8/TDFN8 pattern can be used to add another EEPROM, FLASH, FRAM device.
Of course, ppBridge  can also be used in reverse – to make Propeller Platform modules available to Mikronaut system users

If you have any questions about ppBridge, please visit our ppBridge discussion forum.
Pricing:
MIK-PPPR-B .. $10.95USD+s/h .. includes ppBridge PCB, one 40 pin snap-apart male header, three TV resistors, two 10k resistors, four 100nF capacitors, one electrolytic capacitor and two 10nF capacitors for audio/video output and power filtering
MK-PPBR-K .. $12.95USD+s/h .. adds a 170 point breadboard to MIK-PPPR-B above
Shipping starts at $6.00USD for one board to continental US with tracking.
Please contact us for quantity pricing at mikronauts(at)gmail(dot)com.
Options:
Add four MIK-HF110 standard 10 pin headers to above kits for an additional $2.00USD
Add four MIK-HF110S stacking 10 pin headers to above kits for an additional $5.00USD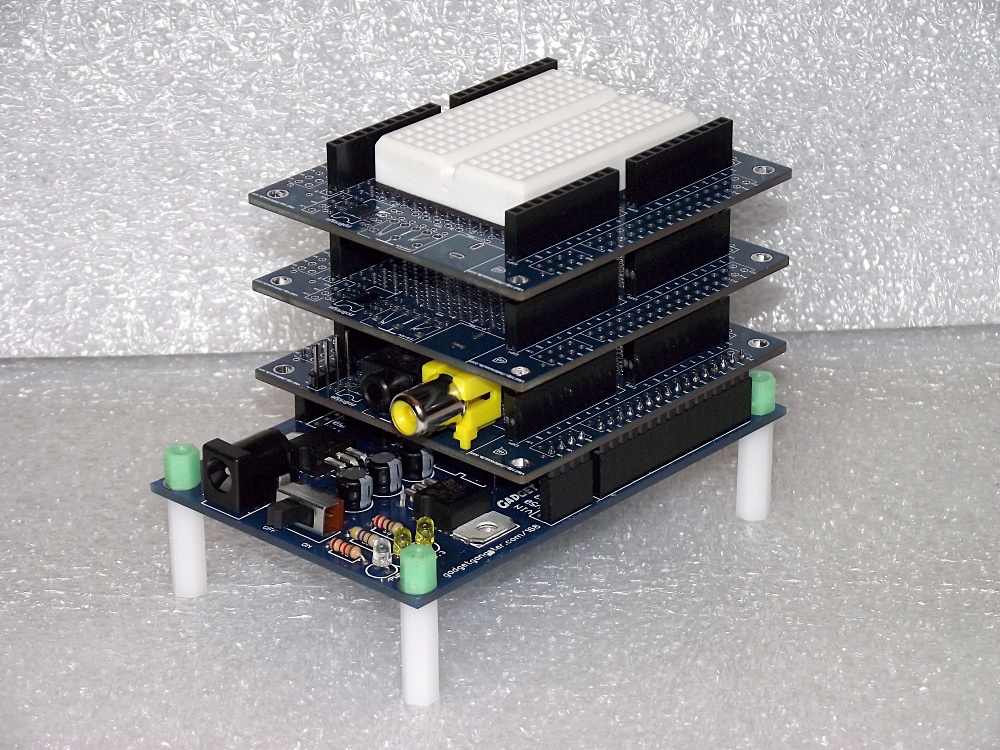 For this demonstration, I stacked three ppBridge's on top of my Propeller Platform.
The bottom most ppBridge had the TV and audio outputs populated, and was plugged into the Propeller Platform using simple male headers; I then used MIK-HF110S stacking headers to stack two more ppBridges on top. I added a MIK-BB-170 breadboard on the topmost ppBridge for easy experimentation