PropCade
Propeller Development, Retro Gaming and Computing platform – Available NOW!
---
PropCade is the first Propeller based computer designed for 100Mhz operation from the ground up!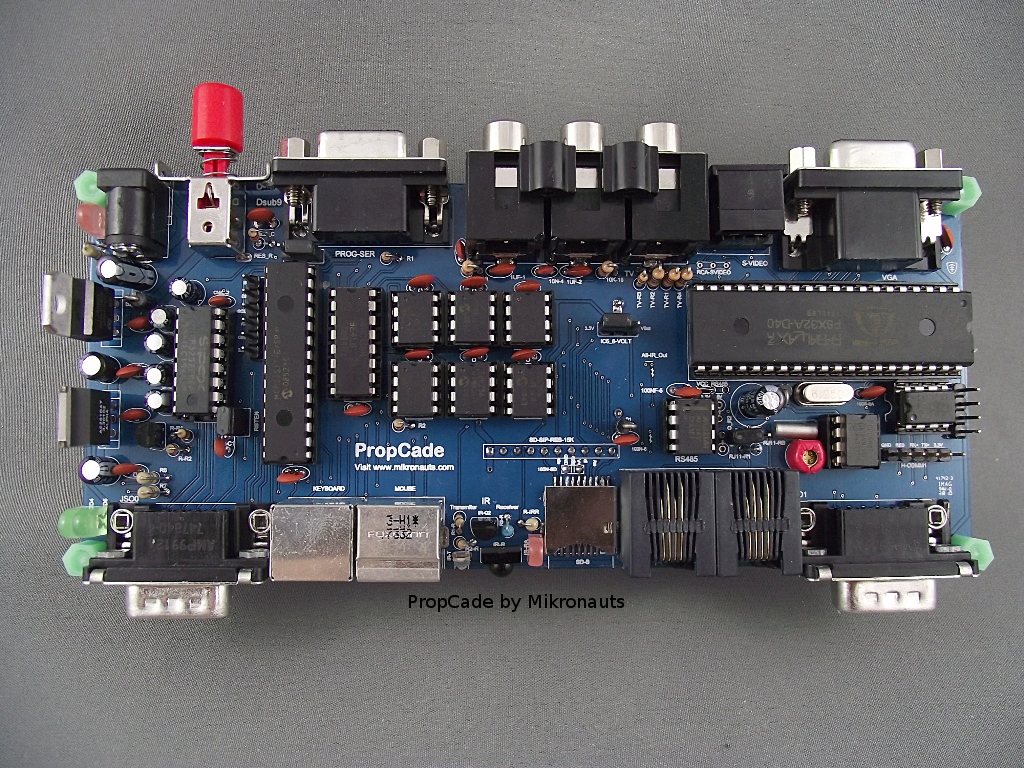 Feature List:
100MHz operation, tested for all functions
6.800"x2.800′ double sided, solder masked, silk-screened PCB
Propeller P8X32 (running at 100Mhz)
64KB EEPROM
PCF8563 Real Time Clock
battery backup of RTC
optional battery backup of last two DIP SPI ram's
two RJ45 jacks for easy RS485 daisy-chained networking (MAX3485)
IR receiver (38Khz)
IR transmitter
two Sega/Atari DB9M joystick ports using a MCP23S17 running at 5VDC
built-in 'SerPlug' MAX3232 serial port with DB9F runs at 1Mbps with optional FTDI USB cable
uSD socket (push/pull)
six sockets for SPI RAM/FRAM/FLASH (SOIC8/TDFN pattern under DIP8 socket)
VGA output (demo board compatible)
Video output (demo board compatible)
S-Video output
Stereo audio out via RCA jacks
PS/2 keyboard jack (demo board compatible)
PS/2 mouse jack (demo board compatible)
DC 2.1mm power jack for 7.5V-9V adapter (not supplied)
push on / push off power switch
power ON LED
2 user LED's
PropPlug/SerPlug header (remove SP3232 to use the header)
extremely Demo board compatible
VGA/Keyboard/Mouse pins 100% Protoboard compatible
Future Expansion:
up to seven more MCP23S17's for up to 112 more digital I/O's
I2C expansion header for anything you care to hook up to it
Alternate Industrial Configuration:
two 10-pin ports for upcoming Mikronauts optically isolated I/O modules (instead of DB9M joystick ports)
three screw terminal instead of DB9F for RS232
three screw terminals instead of RJ45's for RS485 networking
SOIC8/TDFN SRAM/FLASH/FRAM instead of DIP8 memory
PropCade is a self-contained, affordable Propeller platform for:
writing Spin and Pasm code right on the Propeller with Sphinx
emulating old computers (Z80, 6809, etc)
emulating old game consoles
making arcade cabinets
serial terminal replacement
running virtual machines (ZOG, Java and others)
running FemtoBasic
VT100 replacement
The possibilities are endless!
Sapieha PCB layout is amazing – this board was designed for 100Mhz+ operation!
Kit #1 – "PropCade 128"
PropCade PCB, *COMPLETE* kit with 128KB SRAM for $109+s/h
Complete means complete – the only empty sockets on the board will be two of the 8 pin dip memory expansion sockets – please see the feature list at the top for what is included.
Add $30 if you would like your PropCade assembled and tested.
Kit #2 – "PropCade Essentials"
PropCade Essentials kit for $39 + s/h
Since a lot of Propeller enthusiasts will already have most of the parts needed to populate PropCade, I thought it would be useful to make a "Bare Kit" consisting only of the parts that are not readily available from DigiKey.
This kit includes ONLY the following parts:
PropCade printed circuit board
6.25Mhz crystal
uSD socket
power switch
triple RCA socket that PropCade is designed to accept
two of the RJ45 unshielded connectors I use
You will have to supply all of the other parts.
Shipping and handling should be between $28-$35 for XpressPost, and $17-$25 for Expedited Parcel (best guesses, more outside US/Canada) to the continental U.S. including tracking and delivery in 3-5 business days to major urban centers. Please send me your exact address for an accurate shipping quote.
Here is an example of a PropCade complete kit 128K
XpressPost shipping to California: $28 s/h, includes tracking, 3-4 business day delivery
Expedited Parcel shipping to California: $17 s/h, includes tracking, 4 business day delivery
You can save on shipping by ordering two kits, as the shipping charge is the same for one or two kits.
Note for non-major centers, add 2-3 business days to delivery.I recommend Expedited Parcel!
Available Software
SphinxOS
BoulderDash
NES joystick interface emulation (for Hydra games)
pretty much everything from Obex as-is, after changing the xtal frequency!