Pi Droid Alpha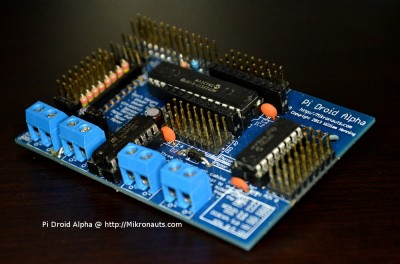 Pi Droid Alpha is the best educational Robot Controller for the Raspberry Pi
Pi Droid Alpha adds an L293D dual h-bridge motor driver, MCP3008 eight channel 10 bit analog to digital converter, and an MCP23S17 sixteen channel digital I/O expander to your Raspberry Pi.
Note: Pi Droid Alpha  is sold in unassembled kit form. Photo above shows an assembled Pi Droid Alpha for illustration purposes
Pi Droid Alpha is for all current Raspberry Pi Models!
Raspberry Pi Zero (** NEW **)
Raspberry Pi 2 Model B
Raspberry Pi Model A
Raspberry Pi Model B
Raspberry Pi Model A+
Raspberry Pi Model B+
Robot Controller Comparison
There are plenty of servo controllers and motor drivers for the Raspberry Pi.
Mikronauts specializes in Robot controllers that do much more than just driving servos and motors!
| | | |
| --- | --- | --- |
| | Mikronauts | Mikronauts |
| | Pi Droid Alpha | RoboPi |
| I/O Co-Processor | – | 32 bit, 8 cores |
| Max Servos | 8 | 24 |
| Max PWM | 8 | 24 |
| Max HC-SR04 | 8 | 24 |
| Max Flex I/O | 8 | 24 |
| Std Digital I/O | 16 | 24 |
| Total Digital I/O | 24 | 24 |
| 12 Bit ADC | – | 8 |
| 10 Bit ADC | 8 | – |
| Motor Driver | 2ch L293D | – |
| Motor Voltage | 4.5V-36V #1 | – |
| Avg/Max motor I | 0.6A/1.2A #1 | – |
| Screw Terminals | 4 | 1 |
| I2C Headers | 1 | 2 |
| HCOMM Header | 1 | 1 |
| 10 pin header | 2 | 3 |
| API | pigpio, wiringPi | RoboPi C/Python |
| Support Forum | yes | yes |
| Target Robots | Educational | Advanced |
| MSRP Full Kit #2 | $34.95 USD | $49.95 USD |
NOTE
Depends on manufacturer of specific L293D
shipping and handling not included
For entry level educational and hobbyist robots, we recommend Pi Droid Alpha as entry level robots normally do not require powerful motors that draw a lot of current.
For advanced robots that require hard real time I/O for precise control, we recommend RoboPi which incorporates an eight core RISC co-processor. Add an external motor driver sized for the motors you wish to use.
Mikronauts robot controllers are supplied in kit form in order to make them more affordable – and to offer makers the satisfaction of building their own controller, for more pride in their robots.
Mikronauts kits are an excellent way of introducing students to electronics!

Pi Droid Alpha is based on my "SPRITE" controller, featured in the January 2014 edition of SERVO Magazine.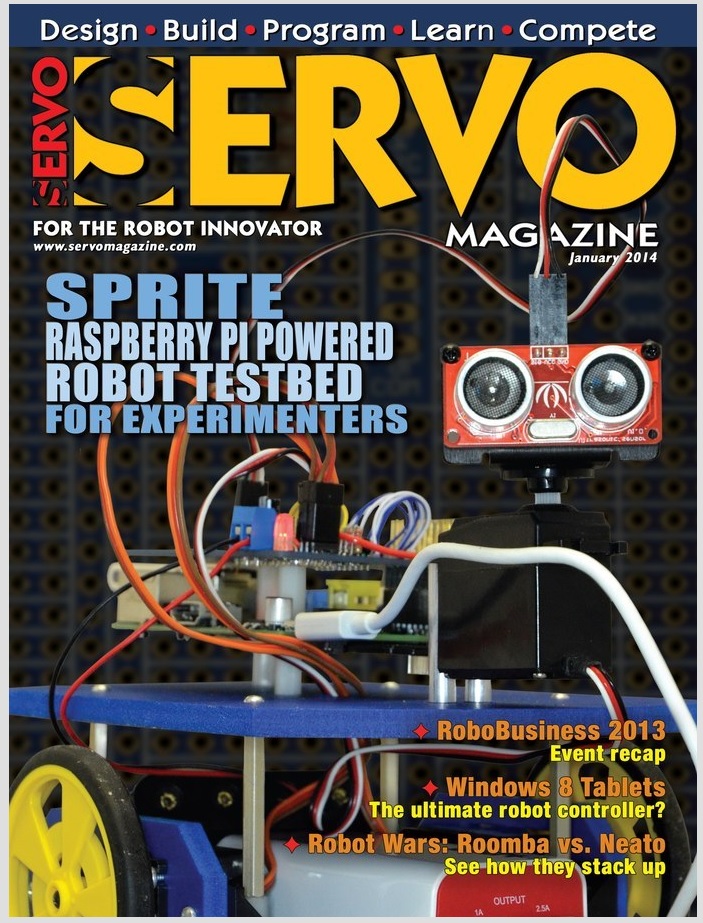 (click on image for larger version)
I designed Pi Droid Alpha after submitting the SPRITE article to SERVO, and received the first prototypes at the end of 2013. I also received my RoboPi Advanced Robot Controller for the Raspberry Pi prototypes at the same time.
The first production run of Pi Droid Alpha arrived in the first half 2014 and had some issues, and I finally received a problem free production later in 2014, and I can now offer Pi Droid Alpha for sale!
Pi Droid Alpha Features
8 servo headers for up to eight servos, PWM outputs or digital I/O
16 servo compatible headers for 5V digital I/O via MCP23S17
8 servo compatible headers for an eight channel 0-5V MCP3008 analog to digital converter
L293D dual h-bridge motor driver (shares two servo headers and four digital I/O headers)
screw terminals for servo power, motor power, motor 1 and motor 2
uses 26 pin stacking GPIO header for compatibility with 26 and 40 pin Raspberry Pi's
two ten-pin Mikronauts I/O module expansion connectors for the MCP23S17 I/O expander
4 pin I2C expansion header for the Raspberry Pi
5 pin HCOM connector (optional)
6 pin SPI connector for up to seven additional MCP23S17 I/O expanders (optional)
silk screened "cheat sheet" for voltages and I/O connections on the PCB
mounting holes matching Rev.2 Model A and Model B
Mikronauts EZasPi prototyping board can stack below Pi Droid Alpha
Mikronauts Pi Jumper can stack on top of Pi Droid Alpha
Mikronauts SchoolBoard ][ and other Propeller products are compatible with Pi Droid Alpha
Here is a top-down view of an assembled Pi Droid Alpha: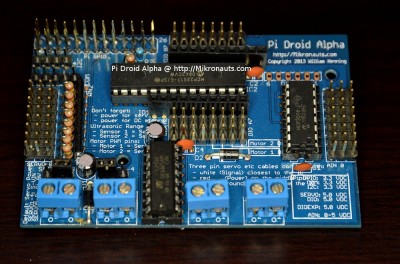 (click on image for larger version)
Software Compatibility
Pi Droid Alpha is compatible with all popular Raspberry Pi GPIO libraries as it uses Pi GPIO's for servo control, and popular off-the-shelf digital I/O expander, analog-to-digital converter and motor driver chips.
servos are on GPIO # 4, #17, #18, #21/27, #22, #23, #24, #25
MCP23S17 is on /CE0
MCP3008 is on /CE1
the L293D uses GPIO #24 and #25 for motor enable, GPB4-GPB7 for motor direction pins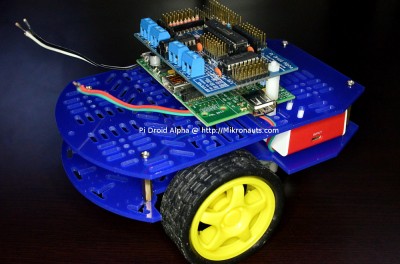 (click on image for larger version)
COMING SOON – Pi Droid Alpha kits including chassis and more…
If you have any questions about Pi Droid Alpha, please VISIT OUR FORUMS
Downloads
Parts List
Pi Droid Alpha printed circuit board
MCP3008 ADC
MCP23S17 IO expander
L293D dual H-bridge
2×13 stacking header
4x servo headers (3x8M)
1x 1x4M i2c header
2x 1x3M headers
2x 2 pin shunt
2x 1x10F headers
2x DIP16 IC socket
1x DIP28 IC socket
3x 100nF ceramic capacitors
2x 47uf electrolytic capacitors (can be 33uF – 100uF)
9x 2k4 resistors
1x 4k7 resistor
1x 4k7 SIP9 resistor network
2x diodes
4x Wago 5.08mm dual screw terminals
DOES NOT INCLUDE A RASPBERY PI
Pi Droid Alpha PCB Specifications:
ROHS and Lead Free
FR4 ENIG 1-oz copper
85mm * 56mm
mounting holes matching those on the Raspberry Pi rev.2 Model A/B
Pricing & Availability
Pi Droid Alpha Full Kit: $34.95USD + shipping&handling
Pi Droid Alpha is now available.
Pi Droid Alpha is supplied in a kit form in order to be more cost effective for schools and individuals.
To buy samples, please click on this link to go to Mikronauts Ebay listings
For distributor and reseller information, please email us at
Quantity pricing is available for distributors and educational organizations.
Shipping & Handling
Please contact us for non-US shipping rates for your desired product mix and quantity
for one only Pi Droid Alpha Kit s/h is $8.00USD to the continental US, no insurance, no tracking
for 1-3 Pi Droid Alpha kits s/h is $16.50 to the continental US, $100 insurance, tracking number provided (Tracked Small Packet)
Larger orders will ship Expedited Parcel, tracked, insured to order value – please inquire for exact shipping rate for your desired order.
Shipping to Canada is somewhat cheaper (as Mikronauts based in Canada), shipping outside of North America costs more.
Quantity pricing is available for distributors and educational organizations.