Raspberry Pi 2 Model B Review
2017 came early! Who would have thought we would get a Christmas present on February 2nd 2015?
The Raspberry Pi Foundation pulled a proverbial rabbit out of its hat, and presented us with a quad core Raspberry Pi 2 Model B !!!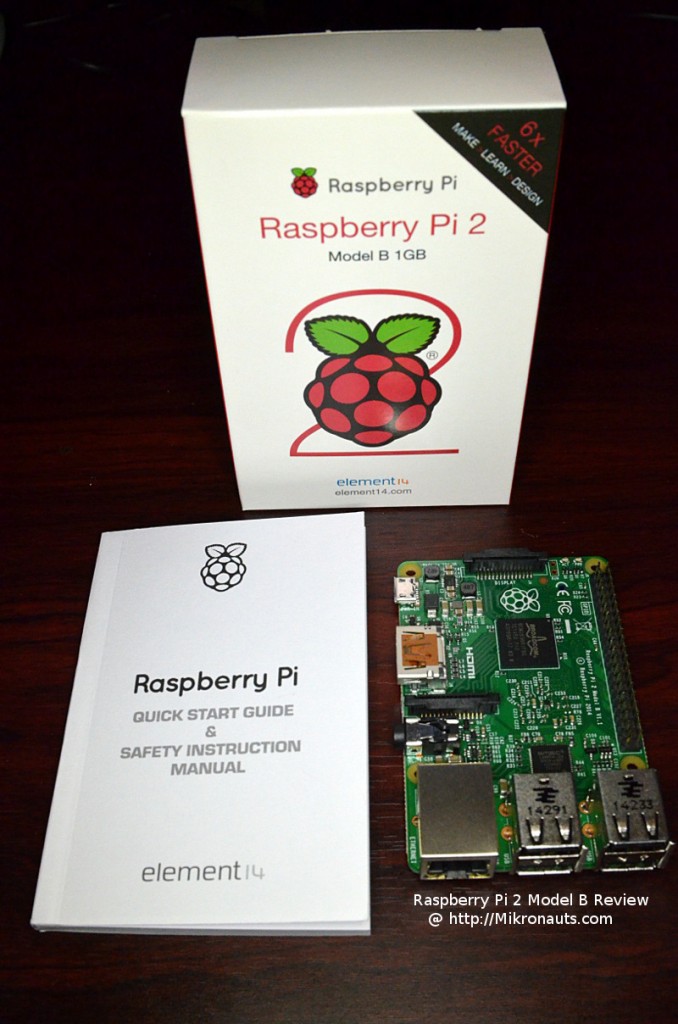 (click on image for larger version)
There was an incredible feeding frenzy for information – so much so that the Foundation had to turn off their forums in order to prevent their servers from virtually melting.
I must admit that I was delighted to see a more powerful Raspberry Pi from the Raspberry Pi Foundation.
The Raspberry Pi Model A, A+, B and B+ are fine single board computers, with a lot of life left in them… but they were definitely lacking in the performance department.
The lack of performance did not really matter to the target market – education – a large fraction of the Raspberry Pi's users are turning out to be makers, hobbyists, and industrial users – who are embedding Raspberry Pi's as a controller for all sorts of uses – from fish tanks and toasters to running industrial plants.
For non-educational users, seeing many other competing single board computers with more powerful processors, Gigabit Ethernet, faster storage (in some cases including a SATA port) was an awfully strong temptation to jump ship, regardless of the Raspberry Pi's huge community and support infrastructure. If the Raspberry Pi Foundation wanted to keep their mind share, the Foundation had to do something… and they did.
They designed the new Raspberry Pi 2 Model B.
In keeping with the Foundations educational orientation, they changed as little as they could in order to maximize compatibility with the previous models, while improving the two most often talked about performance limits – switching to a four core ARMv7 based processor at 900MHz, and to a full Gigabyte of RAM.
Full Disclosure: I purchased the Raspberry Pi 2 Model B myself, and as always, my reviews are unbiased.
(I purchased my Pi 2B from a UK vendor on Monday February 2nd, and had it in my hand on Friday February 6… fast service, for which I would normally give them a plug. Unfortunately they charge VAT to buyers outside of UK/EU, so I will not refer other buyers to them, as they don't have to charge VAT to non UK/EU buyers.)
Does the Rasbberry Pi 2 Model B look like the Raspberry Pi Model B?
NO!
It looks like the Raspberry Pi Model B+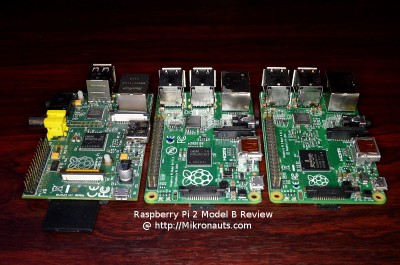 (click on image for larger version)
If you did not take a look at the bottom of the two boards, or the markings on the Broadcom SOC, you could easily mistake one for the other.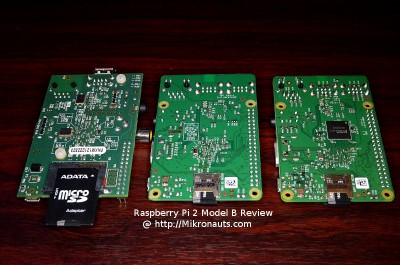 (click on image for larger version)
And in case you are curious, here is what the Raspberry Pi 2 Model B looks like next to an ODROID C1: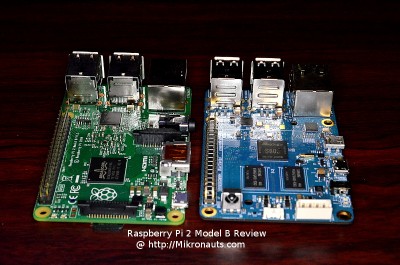 (click on image for larger version)
Article Index