MIPS Creator CI20 Review – First Look
Imagination recently released the MIPS Creator CI20 development board with an Ingenic JZ4780 SOC with dual core MIPS32 processor and embedded PowerVR SGX540 GPU.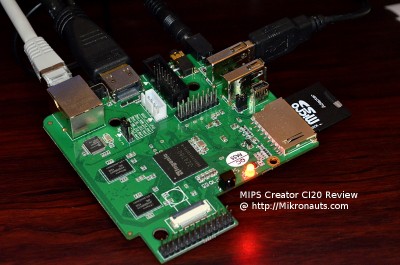 (click on image for larger version)
While most of the media has dubbed the MIPS CI20 a Raspberry Pi competitor, it is actually a development/reference board for MIPS32 processors and PowerVR SGX540 GPU's.
Why do I clarify that distinction?
Because we need to hold reference/development boards for professional developers to a different standard than mass market boards meant for education and hobbyists.
The Raspberry Pi's original 26 pin GPIO header is emerging as a new standard for embedded development boards and small inexpensive computers. Just like the Arduino header layout, it is showing up on more and more boards, with different levels of hardware and software compatibility.
There is an interesting parallel between the 26 pin GPIO header and the PC/XT bus, being extended to the 40 pin GPIO header (shades of PC/AT bus).
Full Disclosure: Imagination Technologies provided the CI20 board used in this review, however the review will be unbiased, like all of my other reviews.
By including a Raspberry Pi compatible 26 GPIO header, Imagination, developers and end users can leverage off the available add-ons for the Raspberry Pi. A smart move for Imagination.
The board arrived in a plain brown box: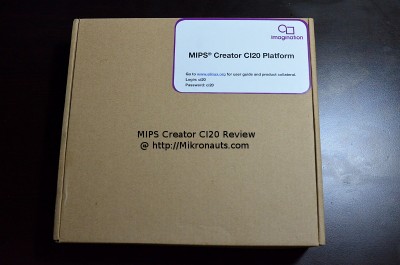 (click on image for larger version)
The MIPS Creator CI20 a slightly oddly shaped board, with unusual mounting holes, which makes me suspect that there will soon be a case made specifically for it – as otherwise I cannot find an explanation for the odd shape.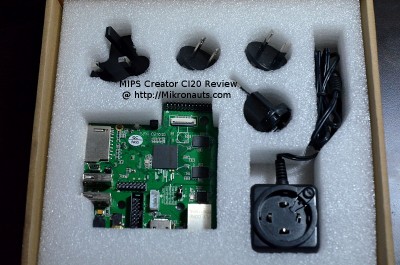 (click on image for larger version)
Here is a closer look at the supplied power adapter: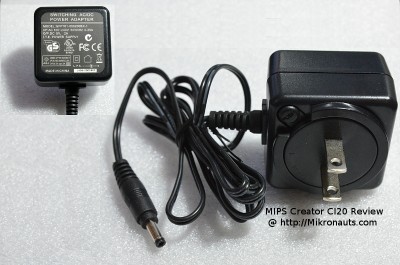 (click on image for larger version)
Does the MIPS Creator CI20 look like a Raspberry Pi?
No!
Not even remotely.
Left to Right: Raspberry Pi B, MIPS Creator CI20, Banana Pi

(click on image for larger version)

(click on image for larger version)
NO ONE will mistake the CI20 for a Raspberry Pi from a visual inspection.
The differences go deeper… as the CI20 is based on the MIPS architecture, and not on the very popular ARM architecture.
Personally, I like that another processor architecture is now available in an inexpensive small form factor Linux development board – the more competition, the better

Article Index