SirMorph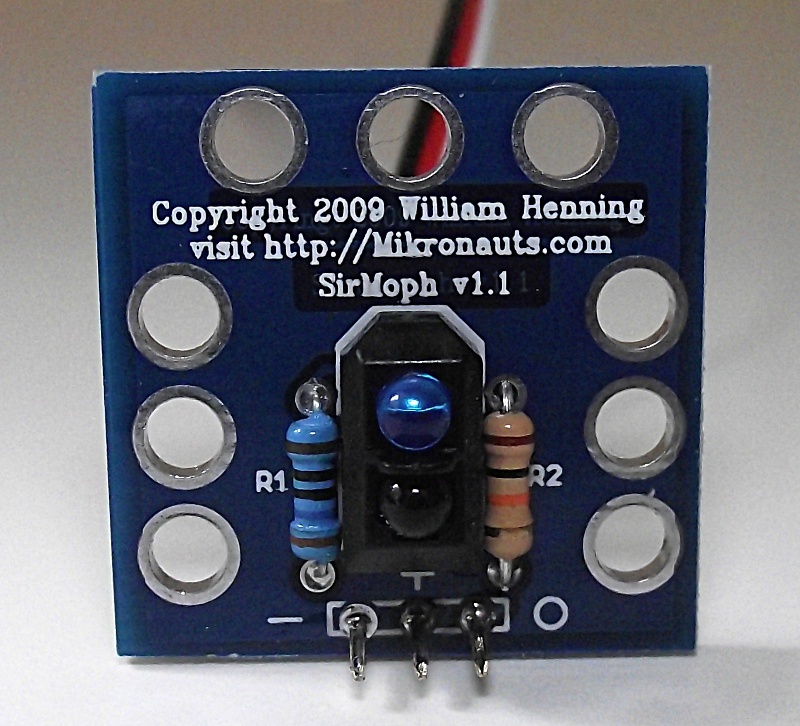 (photo of new blue SirMorph, after assembly)
SirMorph is Mikronauts multi-purpose IR sensor.
You can use SirMorph for:
Short range IR distance sensor (approx. 2mm-200mm)
Servo mounted wheel encoder for Solarbotics wheels
Virtual Bumpers
Line Sensors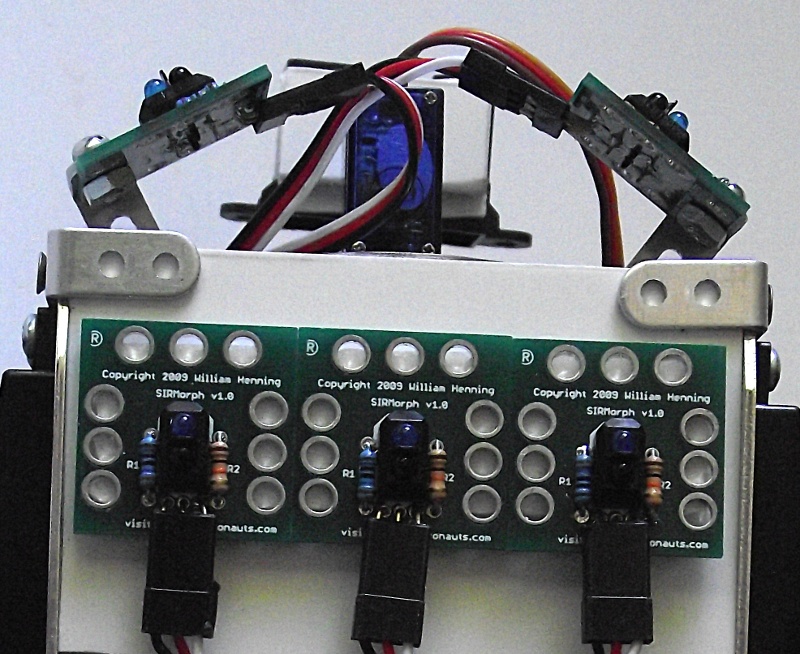 (Photo of a line sensor made from three of the original version of SirMorph)
Features:– designed to mount on Parallax, VEX or any other chassis
– nine mounting holes for flexibility in mounting
– top mounting holes are Meccano / Erector set compatible
– 0.100″ center 3 pin holes for connecting to your microcontroller
– can be soldered to the male pins of a servo extension cables
– can be inserted into a solderless breadboard using 3 pin 90 degree header
– designed to mount on standard servos
A pair of SirMorph's can even be used as a combination servo mount, wheel encoder and side virtual bumper
SirMorph is normally powered by 5V from a three pin servo/sensor cable, and is nominally configured to draw 20mA.
By changing the resistors on SirMorph, you can run it at 3.3V, or even increase the IR emitter current to 50mA!
SirMorph was featured in the "Upgrading the Boe-Bot" article in the September 2011 issue of Servo.
Pricing:
$4.95+s/h .. MIK-SIR1-K .. individual SirMorph kit
$19.95+s/h .. MIK-SIR5-B .. five pack of SirMorph kits for use as line sensor / virtual bumpers
Kits include new revision blue PCB with 0.100″ spacing for cable, IR emitter/sensor and resistors for 5V 20mA operation
Please inquire about volume discounts for dealers, distributors and educational institutions.
NOTES:
The line sensor kit provides four of the SirMorph in a vscored strip and one loose sensor PCB so that you can use it as a 3 or 4 sensor line detector, and one or two encoders/bumpers/range sensors.
The default configuration uses 11mA @ 5V, and has a sensing range of approximately 2mm-40mm. The LED current can safely be increased to 50mA, which can allow for detecting objects at up to 200mm with a 12 bit ADC.