Raspberry Pi 4.3″ EastRising HDMI TFT LCD Review and Experiments
The Raspberry Pi is a fantastic little computer, however unfortunately the Raspberry Pi Foundation has not (yet) released any LCD modules for the handy DSI connector present on all Pi's.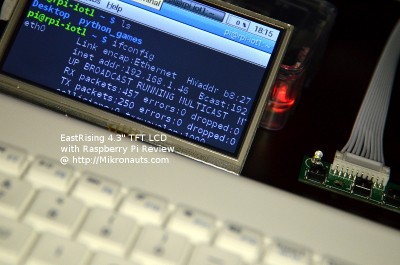 (click on the image for larger version)
It is easy enough to use an NTSC/PAL LCD, but the picture quality leaves a lot to be desired.
There has been a veritable flood of 2.2″ – 3.5″ SPI based TFT LCD modules that can stack on top of the Raspberry Pi, unfortunately they use at least one of the chip selects of the SPI port on the GPIO header, thus limiting other expansion possibilities.
Given that I did not want to tie up the SPI port, and as I can't buy a DSI display from the Raspberry Pi Foundation at this time, I started looking into generic HDMI based solutions.
These displays come with an external HDMI to LCD adapter board, which converts the HDMI signals to either LVDS or parallel LCD cables, performing scaling as needed.
I used one of my existing Raspberry Pi Model B+ systems, runing the February 2015 release of Raspbian.
Full Disclosure: I purchased all of the equipment used in this review, and was not solicited or compensated to write the review. As always, I am unbiased.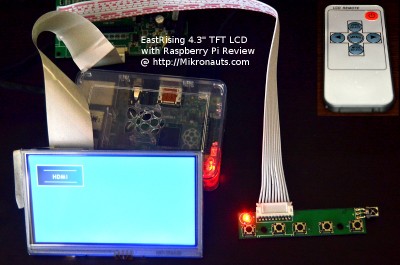 (click on the image for larger version)
In this review, I will be taking a look at the EastRising ER-TFTV043-4 display with driver module. I also purchased the optional keypad panel, resistive touch screen, and USB touch screen interface board.
I have to admit, I had fun playing with the LCD and adapter, and this review is longer (and with many more photos) than originally intended.
The remote control, and keypad, allow you to select the input (it auto-selected HDMI with the Pi) and adjust contrast, brightness, hue.
LCD Specification
Specifications from EastRising
| | |
| --- | --- |
| Part Number(Order Number) | ER-TFTV043-4 |
| Connection | FPC-Connector |
| Display Format | 480×272 Dots |
| Sunlight Readable | No |
| Touch Panel Optional | Yes |
| Outline Dimension | 105.4(W)x67.1(H)mm |
| Visual Area | 97.90×56.65mm |
| Active Area | 0.198(W)x0.198(H)mm |
| Character Size | No |
| Diagonal Size | 4.3" |
| Dot (Pixel) Size | 0.135(W)x0.135(H)mm |
| Dot (Pixel) Pitch | No |
| IC Package | COG |
| IC or Equivalent | HX8257A, NV3047 |
| Interface | Video(CVBS), VGA, HDMI |
| Display Type | TFT-LCD Color |
| Response Time(Typ) | 15ms |
| Contrast Ratio(Typ) | 400:1 |
| Colors | 65K/262K/16.7M |
| Viewing Direction | No |
| Viewing Angle Range | Left:70.0 , Right:70.0 , Up:50.0 , Down:50.0 degree |
| Appearance | RGB on Black |
| Brightness(Typ) | 350cd/m2 |
| Backlight Color | White Color |
| Backlight Current (Typ) | 15mA |
| Power Supply(Typ) | 12V |
| Supply Current for LCM(Max) | No |
| Operating Temp | -20℃~70℃ |
| Storage Temperature | -30℃~80℃ |
You saw a couple of photos of the LCD panel above – and you will see many more… but first, let's take a look at the HDMI adapter board: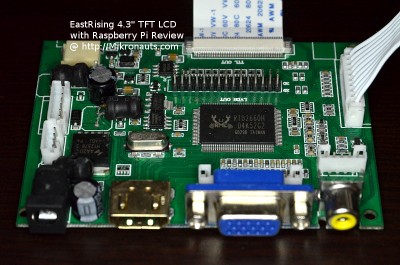 (click on the image for larger version)
At 90.60mm by 65.60mm the adapter board is a bit larger than the Raspberry Pi 85mm by 56mm, however it seems like a larger difference than it really is due to the cables to the LCD and control keypad.
As you can see, it provides HDMI, VGA and RCA inputs – as a matter of fact, there is a second RCA input available on one of the headers.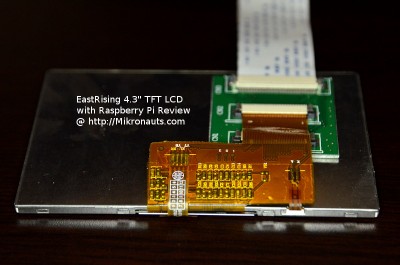 (click on the image for larger version)
Here you can see the small adapter board provided to interface the LCD's connector with the HDMI adapter board.
You can also see how the cable from the touch panel has been soldered to the flexible printed circuit to combine it with the 40 pin cable. I will have to de-solder it to be able to use it with the USB touch screen adapter – I should have ordered the touch panel unmounted (live and learn).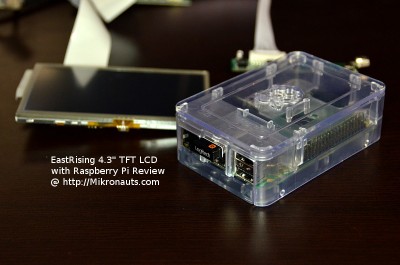 (click on the image for larger version)
The outside dimensions of the display are just a little bigger than the Raspberry Pi in its case.
Don't worry, I won't keep you in suspense.
While it took a bit of configuration, the module does work nicely with a Raspberry Pi: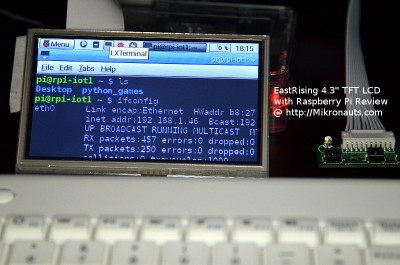 (click on the image for larger version)
Article Index